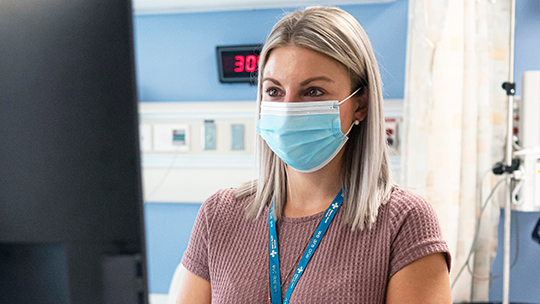 Connect Care Champion & Research Coordinator Breanne Stewart.
Connect Care's research potential is exciting for clinicians and researchers alike. Pediatric oncologist, Dr. Tony Truong of the Alberta Children's Hospital, says his patients face a lifetime of health effects due to their intensive cancer treatment in childhood. Connecting the dots and seeing patterns in these patients can be very difficult when records are scattered, but data derived from patient histories through Connect Care could prove invaluable.
"What kind of interesting research can we gain now that we have pooled provincial information?" Truong asks. "Now, we as a province can team up and just say, 'let's look at all our outcomes for patients with osteosarcoma in the last 10 years... The system is going to be there and we can study it. And then when you have this massive information… you can ask questions and try to find out some answers."
Every day, Alberta Health Services (AHS) and our patients are involved in a wide array of clinical studies. AHS' Health System Access team works with academic institutions and affiliated research institutes and centres to support health research. It adds up to better information for healthcare providers to ensure higher-quality care.
For researchers and those supporting clinical trials, Connect Care is amazing. Breanne Stewart is a research coordinator for AHS and the University of Alberta's Quality Management in Clinical Research team.
"It's really clear that this is a very useful tool for research. It can streamline processes, improve efficiency and [patient] recruitment; kind of all across the board," she enthuses.
In one area in particular, Connect Care's continuous record of care is a boon to the safety of patients participating in a clinical trial. Stewart explains that before Connect Care's centralized record, a clinician may not know a patient was receiving an experimental treatment.
"There's a lot of cases that have occurred with [patients], they showed up to emerge unconscious or whatever, and nobody knows that they were actually in a trial, or what the trial was or who the study team was. So there was no continuity of care between the research team and the actual patients," she explains. Stewart's colleague Scott Jamieson concurs.
"You could also be in [a Connect Care patient record] and looking and say, oh my goodness, they ended up being hospitalized for such and such," he says. Before Connect Care, tying all of that information together was an intensive process of visiting sites, searching charts and records manually and compiling the information for the study. "Whereas now," he says, "everything is just remotely available."
Jamieson is the Director of Clinical Operations for the Edmonton Clinical Research Unit, overseeing quality management in clinical research at the University of Alberta. He says with Connect Care, "You're learning about the patient. You can see if there was an adverse event, was it reported in the research data? And it's a world of difference."
He says Connect Care was also a game changer for staff safety during the pandemic. When the University of Alberta was conducting 11 concurrent COVID-19 related trials in 2021, COVID-19 protocols made it difficult to meet directly with patients for screening or follow-ups.
"It has been so helpful for our monitors to be able to continue monitoring remotely for the duration of the pandemic," he says. Patients "were able to do almost everything virtually, and they were inpatients at the hospital. So it was pretty fantastic." Jamieson is also looking forward to monitoring research virtually in this manner in the long-term because of how much more efficient it is.
"We'll be able to do what used to take a day of travelling, and then getting used to facilities and finding a space within the facility. Now, we can monitor at least double what we were doing before," he says.