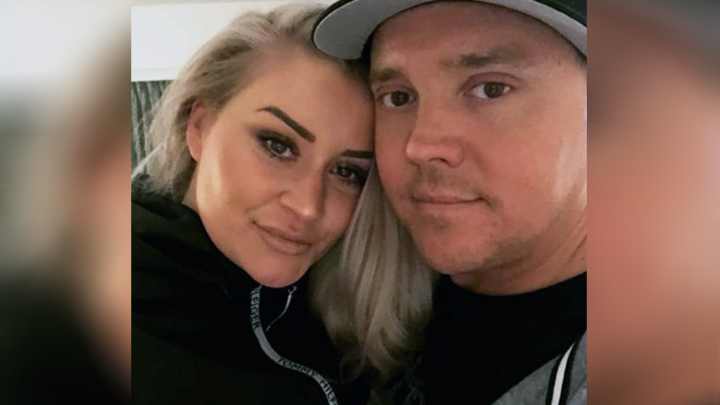 Kevin and Chelsey say this year's National Addiction Awareness Week theme, A Community of Caring, resonates with them as they continue on their journey of recovery from addiction. Photo supplied.
Couple grateful for help on their journey of recovery from addiction
Story by Diana Rinne
GRANDE PRAIRIE - For Chelsey and Kevin, a couple well along on their journey of recovery from addiction, the theme of this year's National Addictions Awareness Week, 'A Community of Caring', means a lot and hits home.
"I'm a good husband, father, employee and friend to many and I couldn't have got here alone," says Kevin, who's been substance-free since 2008.
"I tried everything - switching friends, jobs and even where I lived - but didn't realize until I joined my support group and went through residential treatment, that addiction infected so many aspects of my life with roots so deep I didn't even know they were there."
Struggles with addiction began early in life for the young couple, who ask their surnames be withheld for privacy.
"My father was an alcoholic and most of my first memories consisted of him drinking alcohol all day long and being at the pub until late hours of the night," says Chelsey. "I would say by the time I turned eight, I started using substances that would alter my mind and body, and at 10-years old, it started to become a problem for me."
With addiction as a constant in her life, Chelsey says she struggled for years to find a way out of the cycle.
"I had chosen this terrible path, but I couldn't see it and I had lost everything - my self-esteem, my morals, my mind! I remember waking up one day wanting to change. I had no idea how to take the step forward to a better life - but I knew I needed to try - or I was going to die."
After a number of attempts to get help through treatment facilities, Chelsey hit the ground hard and in April 2009 took a step forward into recovery, and has not looked back.
"There were so many resources available for me when I finally hit bottom and simply asked for help," she adds. "I started by asking my doctor what my options were. He suggested I get in contact with a local substance-abuse counsellor who could help me."
Kevin says he was around 15 when he began to experiment with drugs and alcohol, and hung out with an older crowd with the means to get different drugs.
"As I got older the risks and consequences of the things we were doing got worse and more dangerous - which meant even more problems, bigger problems - and my addiction became more severe," he says.
"At 25, I was using mostly alone, because I didn't trust anyone and basically lost the ambition to do anything except use drugs. I felt hopeless and didn't want to live that way anymore."
It was only when Kevin met a member of a drug-addiction support group that he decided to go to a meeting, where he realized there could be a better drug-free life for him.
"Unfortunately, I didn't understand the gravity of my addiction. I was very lazy, undisciplined and defiant to this group's suggestions on how to attain this life without drugs. Eventually, after several relapses following short bouts of clean time, I was introduced to the idea of residential treatment."
A monumental turning point occurred when Kevin, then living in British Columbia, became a resident of the Last Door Recovery Centre in New Westminster.
"With the combination of the residential treatment community and the support group I was a part of, I learned that I could live my way through any situation that arose without the use of drugs and thankfully, I didn't have to do it alone anymore," he adds. "I still live by this philosophy today - and because of this I've been clean since I was 28."
Here in Alberta, Chelsey and Kevin continue to work on their recovery in through Community Adult Addiction services at the Northern Addictions Centre in Grande Prairie, which offers both counselling for both couples and individuals.
"When you have a 24-hour a day problem you need a 24-hour a day solution," says Kevin. "The support group and The Last Door provided me with this, and I am forever grateful. Life still happens and it's not always sunshine and roses out there, but I've learned the emotional tools to cope with what life brings without the use of drugs, without burning down all that I've built, while continuing to be a productive member of society."
For those struggling with addictions, Chelsey offers an encouraging word of advice: "Don't ever give up! There is such a huge world filled with amazing things. Although it wasn't easy, I will forever be grateful I made the choice to do better, live better and think better. I'm very grateful I survived and can continue to help others."
---
National Addictions Awareness Week runs Nov. 20 to 26. If you or someone you know is struggling with an addiction, please know help is available. Albertans can get more information and help by calling Health Link at 811 or the Addiction Helpline at 1-866-332-2322.