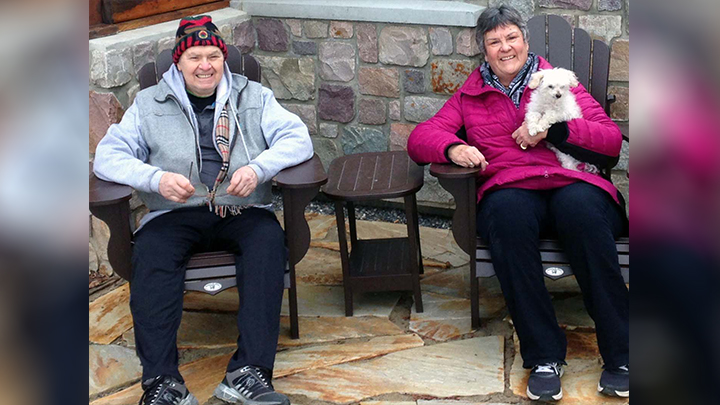 In this cherished family photo, Jane Manning and her husband Don enjoy a visit to the Jasper Park Lodge. Not long after this photo was taken, Don was diagnosed with prostate cancer, but was able to spend his remaining days at home. Through her experience with her late husband's comfort care, she realized that family members have a role to play in the prevention and management of pressure injuries. Photo supplied.
Retired nurse shares her personal story to raise awareness
Story by Shane Westin
GRANDE PRAIRIE — Jane Manning spent more than 30 years as a nurse in Alberta healthcare, both in Public Health and later as a senior administrator in Acute and Continuing Care. While she faced challenges during her career, one of her most difficult nursing experiences came a decade after she retired in 2007. Her husband Don was dying of prostate cancer but was able to spend his remaining days at home thanks to Jane, their grown children and their Home Care assistance.
"It became traumatic for me," she says. "While at home, he developed a bed sore (a pressure injury). We couldn't keep him off his back, and it was large by the time he died. This was my first real experience with how fast pressure injuries can develop, but thankfully we were able to keep it from becoming infected."
Looking back, she wonders if a traditional nursing practice may be the reason pressure injuries weren't a bigger issue in her nursing experience — and why she may have missed the early warning signs at home.
"When I became a nurse, back rubs were an essential part of evening care," she recalls. "Not only did patients love them, but it was also a time for us to look at backs, bums and heels where pressure injuries are most common."
Through the experience with her husband's comfort care, she realized that there's a role for family members to play in the prevention and management of pressure injuries. She believes that with some basic guidance and instruction, family caregivers can help avoid the difficult complications of a pressure injury.
"It's important that patients and family members receive brief and simple information about what they need to know, do and pay attention to in terms of pressure injuries," Manning adds. "Specifically, information about the effects of being in bed for long periods and the importance of changing positions."
After her husband's passing, Manning realized she wanted to continue to help make a difference. A few years ago, she joined the Alberta Health Services (AHS) Patient and Family Advisory Group (PFG) to provide feedback on various healthcare improvements and initiatives.
More recently, she joined the Pressure Injury Prevention Advisory Committee. This committee is currently working on a Pressure Injury Assessment Documentation Reporting and Management Policy and is conducting a survey of urban and rural hospital staff to get a sense of what they're doing in terms of pressure injuries and what may be preventing them from doing more.
"Through my experience on the PFG committee, I've come to realize how important it is to share the patient and family perspective in the development of policy and procedure documents and education materials," she says.
Overall, Manning draws upon her nursing and caregiving experience to inform others of the risks and warning signs of pressure-injury development. With her personal story and involvement in the AHS committees, she hopes to broaden that awareness and empower people to continue supporting their loved ones by being informed and able to assist them in applying various strategies to prevent pressure injuries.
---
AHS is proud to celebrate World Wide Pressure Injury Prevention Day on Nov. 17. To learn more, visit Wounds Canada.