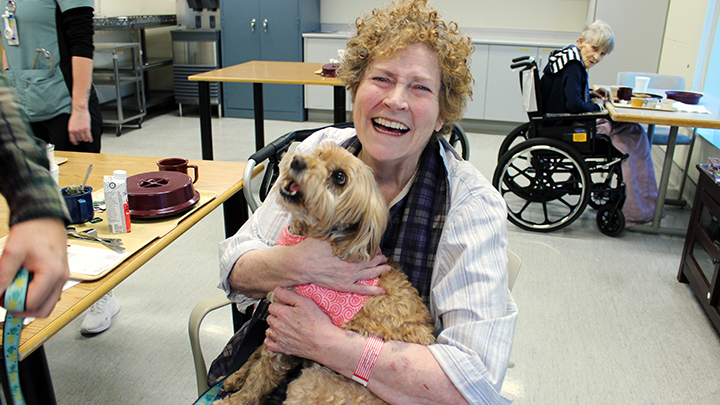 When Paisley showed up at breakfast time, Sheila Wright's face lit up with joy. When she leaned in for a snuggle, Paisley the labradoodle was only too happy to oblige at Chinook Regional Hospital. Photo by Sherri Gallant.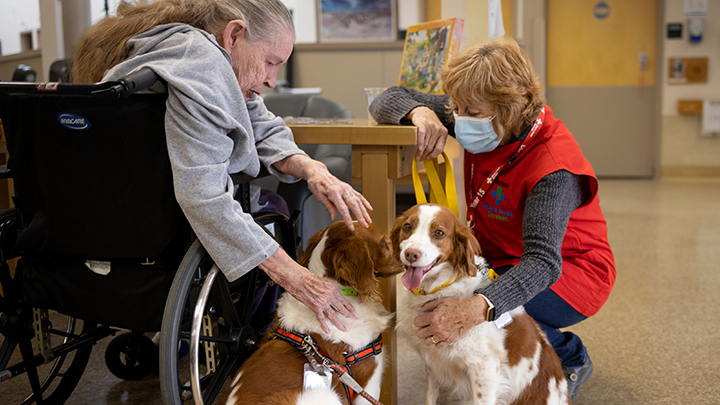 Volunteer Sally Bartman, right, spreads tail-wagging happiness at the Brooks Health Centre with Beckett and Chevy, her Brittany Spaniels. Photo by Leah Hennel.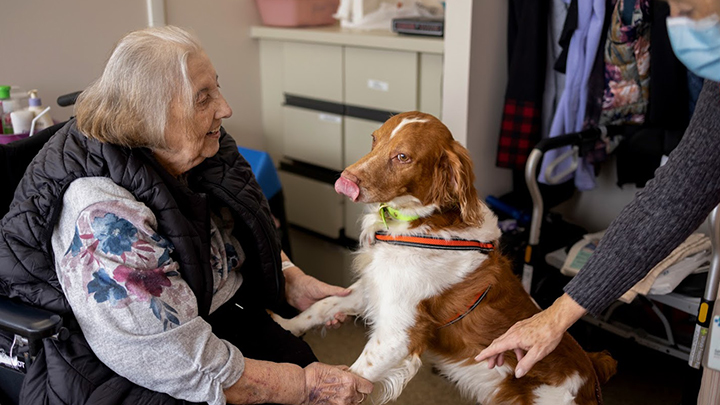 Volunteer Sally Bartman, right, and her pup Beckett bring a 'pawsitive' greeting to a patient at Brooks Health Centre. Photo by Leah Hennel.
Pet Program sees four-legged visitors bring joy to patients & staff
Story by Sherri Gallant | Photos by Sherri Gallant & Leah Hennel
LETHBRIDGE — Every Wednesday morning, heads turn when Randy Tycholis and his best pal walk into Chinook Regional Hospital (CRH).
It's like a dance, really — heads turn, then knees bend and hands reach out to give Paisley (Randy's little apricot-coloured labradoodle) a wee scratch behind the ears — all the while cooing about how cute she is.
Tycholis might as well not be there, for all the attention he gets.
"It's the staff as much as the patients who love to see her," says Tycholis, a longtime volunteer who decided to become a Pet Visitor in September. COVID-19 restrictions meant putting the program on hiatus for a while, but now that it's in full swing again, it's growing.
"We have five active volunteers and three who are up and coming," says Hailey Stuckart, volunteer co-ordinator in charge of the program. "We have a little Maltese named Princess, a Bernese Mountain Dog — that's Tucker — and then we have a Golden Retriever named Rae, and Oakley, a St. Bernard. And of course, Paisley."
In the on-boarding process, the humans have to provide a police record check and do required health screening as well as confidentiality training, adds Stuckart. The dogs are screened for demeanor and intelligence, and owners have to provide vet records showing their pets' vaccinations are up to date.
"Most people think their dog is great, right? And the dog might be great, but maybe not in this setting. I want to know that the dog is quiet and won't bark. They need to be calm and very attentive to their owners, and they're always on a leash, of course.
"Some go just to specific units, and some, like Randy and Paisley, go all over. He does have specific units he goes to, but he also floats — he'll go visit the registration staff, he'll go into diagnostic imaging, up to ICU. Some patients have even been 'prescribed' pet visits by their doctors. It's just so valuable — sometimes it's pure magic. I've seen pets visit patients or residents who are otherwise non-responsive and they're suddenly smiling or laughing."
Once, Stuckart says, a patient who was in Lethbridge on a holiday had a medical issue and ended up in hospital for quite a while. "Not only was he missing home, but he was also missing his dog and we were able to get our visitor to go up and see him."
Cancer patients receiving chemotherapy at the Jack Ady Cancer Centre are also among those who appreciate the comfort and company of pet visitors, since they can be confined to the treatment area, sometimes for hours.
One of the Pet Visitor owners, who started on her own as a volunteer in Psychiatry, now comes with her Golden Retriever, the aforementioned Rae.
"She says the difference between how patients will engage when she has her dog versus without is quite amazing," says Stuckart. "It's like an icebreaker. It really creates a nice opportunity to connect." Another volunteer is also a nurse who works at the hospital and brings her dog during her off hours.
Not everyone loves dogs, Hailey acknowledges, so they're never thrust on the unsuspecting.
"I say, 'would you like to say hi to my friend?'" says Tycholis, "and if they're scared of dogs or don't feel up to it, we keep going. We don't want to invade anyone's space before they have a chance to respond."
Bringing joy to staff is a big part of the 'work' as well.
"We even had a patient request a visit for a staff member once," says Stuckart. "The staff member had been involved in something that was quite troublesome to them at work, so our pet visitor who happened to be here already was able to go and just be the calm. That just brings me so much joy."
Pet Visitors bring happiness to other sites in the South Zone as well, including at the Brooks Health Centre.
For almost two decades, Sally Bartman has been volunteering there. These days, she brings her dogs Beckett and Chevy to volunteer with her twice a month, for up to 90 minutes at a time.
The Brittany Spaniels are popular amongst patients and long-term residents alike at the facility — and Bartman loves visiting, too.
"It really relaxes people when we come in. It just seems to bring joy to people. And my dogs love it, too."