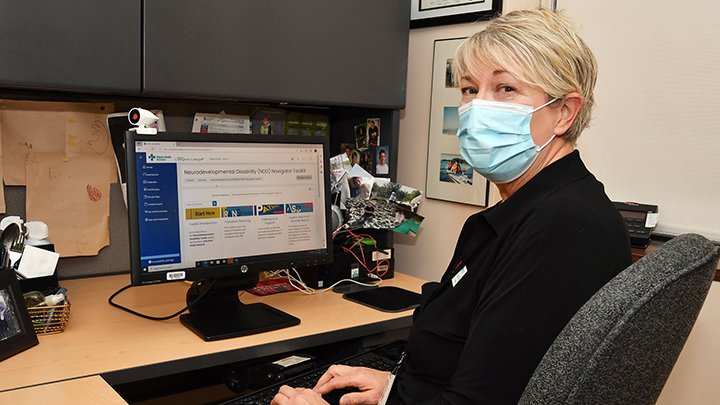 Carol Wilson, a team lead with the Glenrose Rehabilitation Hospital's Learning and Development Centre, shows how access to resources for Alberta families seeking services for their children with neurodevelopmental differences is just a click away. Photo by Ken Dalton.
Glenrose highlights services for children with neurodevelopmental differences
Story by Sharman Hnatiuk | Photo by Ken Dalton
EDMONTON — As a mother of adopted children with fetal alcohol spectrum disorder (FASD), Melissa Dobson is on a journey to grow awareness and compassion towards those impacted by the lifelong effects that can occur in an individual whose mother consumed alcohol during pregnancy.
Part of that journey has led her to lending her voice to a new virtual toolkit designed to improve the experience of families seeking services for their children with neurodevelopmental differences (NDDs), including children with autism, cerebral palsy and FASD, as well as other conditions.
"While the toolkit is designed for parents and families impacted by NDDs, the modules can also be valuable to extended family members, friends, teachers, and the general public," says Dobson.
"FASD is a lifelong disability. The more people who learn about, understand and empathize with those who have the disorder can help them succeed in many different parts of their daily lives."
The Neurodevelopmental Disability (NDD) Navigator Toolkit is a free online resource that provides an introduction for individuals with NDDs, pathways to support, as well as family perspectives on the challenges of seeking support services.
"Many of our families are seeking information and services outside of a clinic appointment with their healthcare provider," says Carol Wilson, team lead, Learning and Development Centre, Glenrose Rehabilitation Hospital. "Having the ability to virtually access a credible online toolkit on their own time, as well as be able to share the resource, can greatly improve the experience for our families."
For Dobson, completing the NDD Navigator Toolkit is just one step she hopes Albertans take towards embracing those in our community impacted by NDD.
"Children and adults with NDDs aren't going to change," says Dobson. "We have to change the world we live in by doing a better job of embracing those who don't fit the mold."
The project, co-sponsored by Kids Brain Health Network and Azrieli Foundation, brought together a committee of community-based partners, families, service providers, and collaborators including representatives from the Glenrose Rehabilitation Hospital, Glenrose Rehabilitation Hospital Foundation, Autism Edmonton, Edmonton Fetal Alcohol Network, Cerebral Palsy Association in Alberta, CASA Child. Adolescent and Family Mental Health, Government of Alberta Disability Services, Northern Alberta Institute of Technology Bachelor of Technology Program, University of Alberta and University of Calgary.