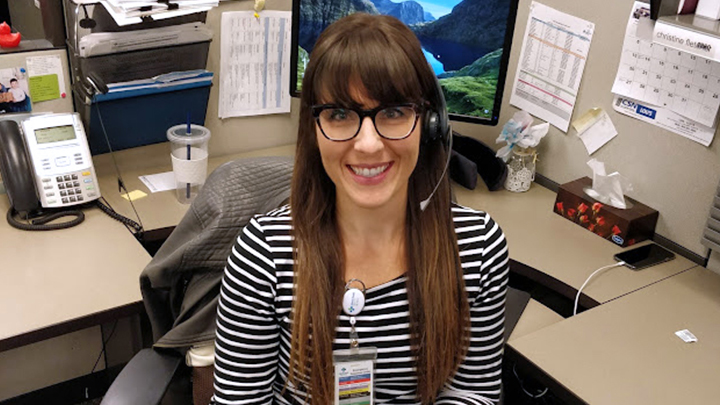 Health Link dietitian Christine Fletcher enjoys answering a broad range of food and nutrition questions for Albertans. Photo supplied.
Health Link dietitians always on hand to answer your mealtime questions
Story by Kelly Morris
Every day Albertans face a never-ending challenge — deciding what's for dinner. Planning a variety of healthy meals weekly is even harder, but many face further considerations such as specialized diets, food intolerances or avoidances as they strive to improve their nutrition.
When questions arise, Health Link dietitians at Alberta Health Services (AHS) are available to help, to answer your questions about food and nutrition — and how what you eat impacts your health. In 2022, Health Link dietitians fielded more than 500 nutrition questions.
"The three most common topics for nutrition calls are related to digestive health, chronic disease such as diabetes, and feeding infants and babies," says Christine Fletcher, one of the registered dietitians who take nutrition questions from Albertans.
"I love helping translate the science of nutrition into everyday solutions," adds Fletcher. "Before I launch into providing specific tips, I try to understand where the patient is at in terms of readiness to make a change, as well as what might be practical for their lifestyle."
Fletcher has advised on how to improve a child's diet to relieve constipation, how to eat healthy after a diabetes diagnosis and on the most commonly-asked question — how to get a young child to eat a more varied diet.
One caller shared that their child was constipated, but hates vegetables, a source of fibre.
"I suggested higher-fibre food ideas that may work for the whole family, in addition to increasing fluid and physical activity," says Fletcher. "Some ideas include mixing higher-fibre cereal with lower-fibre cereal, or sprinkling oat bran or pumpkin seeds onto yogurt. Leave the peels on fruits and vegetables, where possible, and add sliced fruits as a topping on whole grain toast. As a snack, try hummus with a new type of whole grain crackers."
Health Link dietitians can also refer callers to online educational resources they've developed. In this instance, Fletcher also directed the parent to information on Constipation in Babies and Children, Feeding Toddlers and Young Children and ideas for Snacks for Children.
Dietitians often provide advice for patients with a new health diagnosis. A recent caller had just learned their blood sugar falls in diabetic range and was told to eat healthy and exercise more. After their own online search yielded only confusion, they reached out to Health Link to speak to an AHS dietitian.
"We discussed the potential of making some small lifestyle changes, including healthy eating, as an important step in managing diabetes," says Fletcher. "We discussed some initial steps the caller may be interested in taking. I also I told them about the free AHS classes they can access to learn more and enjoy the support of other Albertans in a similar situation."
The initial steps towards healthy eating can include eating regularly throughout the day, and spreading foods with carbohydrates such as whole grains, fruits, milk and yogurt, starchy vegetables, beans and lentils. Eating carbohydrate foods as small meals and snacks helps to better manage blood sugar levels. It's also wise to limit foods with added sugars such as candies, desserts, sweet foods, syrups and honey, as well as juices (including 100-per-cent juice). When choosing grains, look for whole-grain options such as breads made with whole grains, brown rice, whole-wheat pasta or quinoa.
(More information for Healthy Eating for Diabetes and Healthy Meals to Help Your Diabetes can be found online.)
A common frustration for parents of young children who come to AHS seeking advice is: "How do I get my toddler to eat different foods?"
"Be patient," says Fletcher. "Most children over time grow to enjoy the family foods they're exposed to repeatedly. Encourage food exploration and variety by offering new or unfamiliar foods alongside foods that are familiar and regularly eaten by the child. New foods may have to be offered many times before they will be tried or accepted — sometimes 15 or more times."
Parents can support food exploration by eating the new foods themselves — and offering the new food in different ways such as cooked, raw, mixed into other foods, sliced differently, or with a dip or sauce. "Chat about the food's color, texture, appearance, and mouthfeel as a way to help the child to explore and become more familiar with the new food."
More information on Feeding Toddlers and Young Children and Getting Through Mealtime Struggles is available online. Check out these resources and more at albertahealthservices.ca/nutrition.
---
Health Link dietitians are available for all Albertans and can respond to a wide range of nutrition questions or concerns. Call 811 and ask to speak to a dietitian, or complete a self-referral form.
Dietitians Day is March 15, a celebration of dietitians as regulated health care professionals, committed to using their specialized knowledge and skills to translate the science of nutrition into terms everyone can understand to unlock food's potential and support healthy living for all.