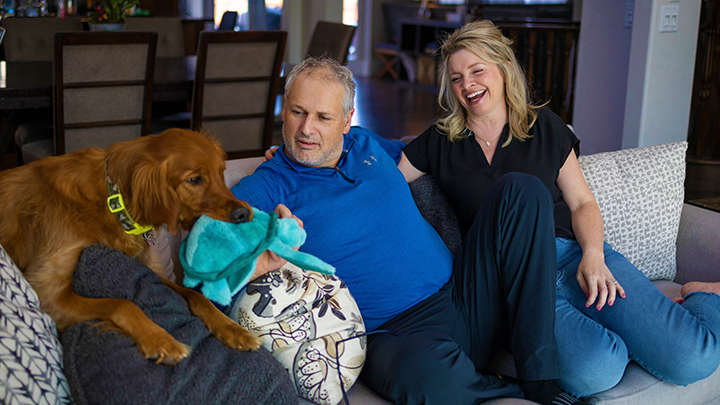 Erin Day, right, leads a busy life as primary caregiver to her husband Shannon. This working Calgary mother of two young children is also a member of AHS' Patient and Family Advisory Group as well as an occupational therapist. Photo by Leah Hennel.
More Albertans living in comforts of home thanks to their efforts
Story by Angela Unsworth | Photo by Leah Hennel
CALGARY — It's five a.m. The alarm rings. Erin Day's daily routine begins. As her family sleeps, she gets work done, plans her day, answers emails and — as primary caregiver for her family — she sorts medications for her husband Shannon, who lives with Parkinson's disease.
Soon Shannon wakes up. She makes him coffee, breakfast and gives him his morning meds. At 7 a.m., their two kids are up. She makes them breakfast, packs lunches and gets them off to school. Then it's time for her to get ready and head off to her full-time job, along with multiple check-ins on her husband to make sure he's OK.
She's arranged for home care to come in mid-morning to check in with her husband — and then she's back at noon to make sure her husband's lunch is organized. Somehow she also manages to fit in shopping, cooking, cleaning, snow shoveling, medication pick-up, medical appointments — as she ensures everyone in her family has what they need.
Erin is not alone. In fact, one in four Canadians is a family caregiver.
Just like Erin, many AHS staff, physicians and volunteers are also family caregivers. As well, one in seven are double-duty caregivers — healthcare staff who provide care at work and at home.
Caregivers are critical to the support of our healthcare system and our communities. One of the ways they do this is by giving people of all ages who need care the choice to remain in their community homes.
"As a busy working Mom of two young children, I wear many hats," says Day, who's a member of Alberta Health Services' (AHS) Patient and Family Advisory Group, an occupational therapist, and a caregiver. "I help (Shannon) manage the increasing challenges of his illness — including difficulties with mobility, daily living tasks, managing medications, attending appointments, coordinating home care and navigating grief and loss.
"Caregiving can feel isolating, and the demands can sometimes be overwhelming, but it is also incredibly worthwhile and rewarding. I wouldn't have it any other way. I know that the support our family provides for him will keep him active and healthy at home for as long as possible."
Family Caregivers are also a critical support for family members within a health facility. A growing body of evidence shows that their presence improves patient safety, experience, outcomes and care across a range of institutional care settings. A family caregiver brings important psychosocial support in addition to sharing vital information about care needs and preferences. Family caregivers often enable successful transition to and from AHS facilities and take on many of their loved ones' essential ongoing care needs.
"It has been my privilege to interact with family caregivers. Partnering with them is essential to my work as a Care of the Elderly Physician," says Jasneet Parmar, AHS medical lead, Edmonton Zone Homecare and Transitions.
"I'm very grateful to them for their presence and feel humbled by their contributions. I truly believe the healthcare system and our society is deeply indebted to them for sustaining care and we need to acknowledge them as the largest workforce of our society."
Including family caregivers as essential care partners with the care team further supports how well they can care for their loved ones.
"We are fortunate to be connected with the Movement Disorders Clinic at the Foothills, and they have been amazing,' says Erin. "The team of doctors and nurses at this clinic embody the principles of Patient- and Family-Centred Care. Not only do they provide excellent care for my husband, but they always include me in the discussion and planning. They ask questions about how I am managing and try to make changes that will help. I'm always grateful for how they consider my life situation and value my input.
"My husband has had several surgeries and hospitalizations in the past few years. We have had experiences when the medical team has taken the extra time and talked me through what discharge will look like, what I can expect to see at home, and plan for what supports we will need. This is enormously helpful. It has increased my confidence and helped me to make a successful road map."
AHS welcomes the presence and involvement of the caregivers that patients want. Caregivers identified by the patient as their key support are frequently referred to as Designated Family Support Persons (DFSPs). These caregivers are not considered visitors, but as essential partners in care.
"As a caregiver, it's important to hear that you're a valued and important part of the care team," adds Erin, as she shares what she thinks caregivers need to hear for support.
"Also, that without the care the caregiver provides, this situation would look very different. I think it's important to thank caregivers for all that they do for those in their care."
---
Tuesday, April 4 is National Caregiver Day. Reach out to your colleagues, family members and friends who may be caregivers to recognize them, say 'thank you' and ask how they're doing. Here are ways to celebrate National Caregiver Day and to learn more about supporting caregivers: