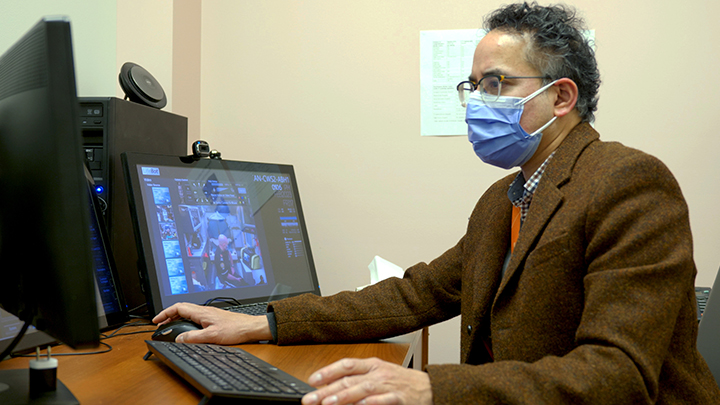 Dr. Tom Jeerakathil uses videoconferencing to interact with his team on the Stroke Ambulance. Photo by Evan Isbister.
Distinction status awarded for second time by Accreditation Canada
Story by Marni Kuhlmann | Photo by Evan Isbister
EDMONTON — Darren Anderson is far more familiar with the Edmonton Stroke Program than he'd like to be. He's had three strokes since 2021.
"Obviously, these could have been moments when my life went completely sideways," says Anderson. Instead, he was able to find comfort during the chaos. "As I was watching it, I was struck by how quickly everyone was able to process 'this is a major event' and everybody understood the steps.
"In my heart, I'm kind of panicking a bit, of course, but everybody was just calm. In each step, they all knew exactly what to do. It was phenomenal."
Anderson's experience speaks to the high level of care offered through the Edmonton Zone stroke program. It's something the experts from Accreditation Canada recognized as well, awarding the program Distinction in Stroke Services for a second time, in 2022.
Stroke Distinction recognizes clinical excellence and an outstanding commitment to leadership in stroke care. The program's rigorous and highly-specialized standards are based on the Canadian Stroke Best Practice Recommendations.
The Edmonton Zone is one of only 18 sites in Canada to have been recognized with this award, assuring patients and families here that the stroke care provided meets or exceeds the national benchmarks.
"It's great news. It really speaks to the commitment of the team members to improving patient care across the zone," says Dr. Tom Jeerakathil, lead, Edmonton Zone stroke program.
"Stroke care is extremely complicated. The Distinction program challenges programs to set quality metrics, meet those metrics, and demonstrate that they've improved the quality of care they give, and that the care they're delivering is outstanding. It's impressive to achieve Distinction status, but it's much harder to maintain that status, especially during a pandemic. I'm thrilled for our team."
Edmonton's integrated stroke response and stroke care delivery is unique. The zone's stroke program also supports the North Zone and regions of the Northwest Territories, British Columbia and Saskatchewan, in helping identify, triage and treat strokes in a timely and appropriate fashion.
Stroke services in the Edmonton zone are provided at various sites. The University of Alberta Hospital, Royal Alexandra Hospital and Grey Nuns Community Hospital offer acute stroke care, while the Glenrose Rehabilitation Hospital offers inpatient and outpatient stroke rehabilitation. Dedicated stroke program coordinators ensure smooth transitions through all aspects of care.
Dr. Jeerakathil adds: "If you actually build the system so that you're delivering best practice every step of the way — from the time they get into an ambulance, to the time they go home from rehab — then you've got the best chance at giving that person the best outcome."
"I have nothing but good things to say about Edmonton's stroke team," says Anderson, now fully recovered from his stroke. "There are some places that are just the experts in it. They were professional from the moment I entered. I really do feel like I owe them so much."