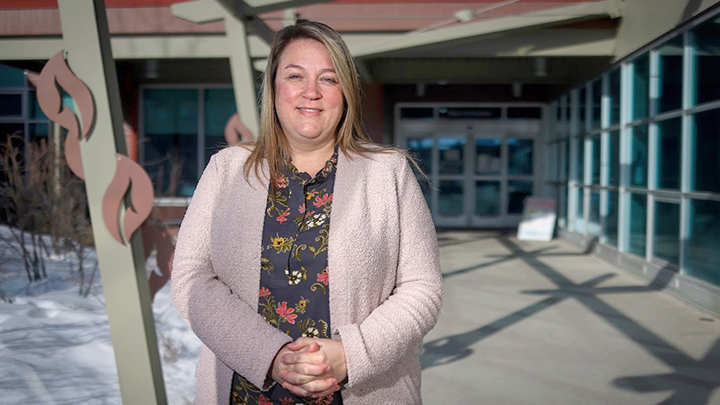 Andrea Mitchell, executive director of the Sheep River Health Trust, was born and raised just outside of Calgary and has worked with the Trust since 2012. Her career in non-profit reflects her lifelong commitment to give back to her community and her desire to role-model that commitment for her children. Photo by Leah Hennel.
Meet Andrea Mitchell of the Sheep River Health Trust
Story by Amelia Schofield | Photo by Leah Hennel
Alberta Health Services recognizes May as Health Philanthropy Month. Throughout the month, we'll be celebrating our philanthropic partners who raise funds for healthcare throughout the province.
The Faces of the Foundations profile series will introduce you to the individuals and groups who lead healthcare philanthropy across Alberta. This week, we're pleased to profile Andrea Mitchell, executive director of the Sheep River Health Trust which supports the Okotoks Health and Wellness Centre and Oilfields General Hospital in Black Diamond.
Why did you become involved with the Sheep River Health Trust?
I've always been involved with non-profits; that's how I got started with the Trust. My mom was a lifelong volunteer, and she was my role model. Volunteering with the non-profit sector is always something we did as a family. Early in my career, I looked for roles in the non-profit sector. I ended up working with an underwater institute in Bermuda for a number of years, which was a lot of fun.
After my family and I moved back to the Foothills, I was a stay-at-home mom for a few years. I then took a role in fund development with the Trust in 2012 — and moved into the executive director role in 2014. It was really important for me to continue that legacy of non-profit work that my mom started.
I also love the connection to my community. That's why I'm still doing this after 11 years. The passion of people who live here in the Foothills is tremendous. I love how every day is different – I meet so many different people and no day is boring.
Why is health philanthropy important to you?
Philanthropy is important because I love how it strengthens our community. Whether people give a donation or time and talents, it brings us together to work toward common goals. Here at the Trust, we say a lot of 'together we can make a difference' — and that really is the truth of it. Together, we can make a difference.
I also want to be a role model for my children. I want to pass along the example that my parents showed me about giving back and having a positive attitude to help others. My kids are 15 and 12 now and they're always the first to volunteer at community barbecues or photos-with-Santa fundraisers. It's important to me that I'm a role model for my kids and demonstrate the impact you can have in your own community.
What recent Trust accomplishments are you most proud of?
With the support of our donors, we've been fortunate to make an impact on healthcare in the Foothills.
Our community contributions have helped make Oilfields General Hospital and Okotoks Health and Wellness Centre our leading regional healthcare providers. We're so grateful to our community for continuously stepping up to support our teams of caregivers in both facilities.
Over the past year, we've had lots of projects. We completed a ceiling lift at the Rising Sun Long-Term Care in the Oilfields General Hospital, which makes a huge impact for residents there and for healthcare teams. We also funded multisensory equipment for residents with dementia as well as new patio furniture for the residents.
We've done a telemetry-upgrade project for acute care at the Oilfields General Hospital. We also funded wall-mounted, vital-signs machines in patient spaces in the Hospital's emergency department.
What initiatives are coming up at the Trust?
We're working on our 10th annual Radiothon, which falls in June. We've been fortunate to raise more than $500,000 to support health and wellness initiatives in the Foothills. It really started when the High River District Health Care Foundation approached us about doing a fundraiser for the new cancer centre at the High River General Hospital. We started by doing a small fundraiser for them and now, 10 years later, here we are. We've grown so much — and we're so grateful for that.
We're also working to set up an AHS staff education fund to support our local healthcare workers with professional development.
What's the best way for Albertans to support the Trust?
It's our goal year after year to work toward our mission of providing the best rural healthcare in Alberta. Our patients want to stay in their communities to be treated — and that is our priority. To achieve our mission, we'll need continued support to elevate our healthcare in the Foothills, whether that's time, talent and donations to the Trust.
---
See more information on the Sheep River Health Trust.