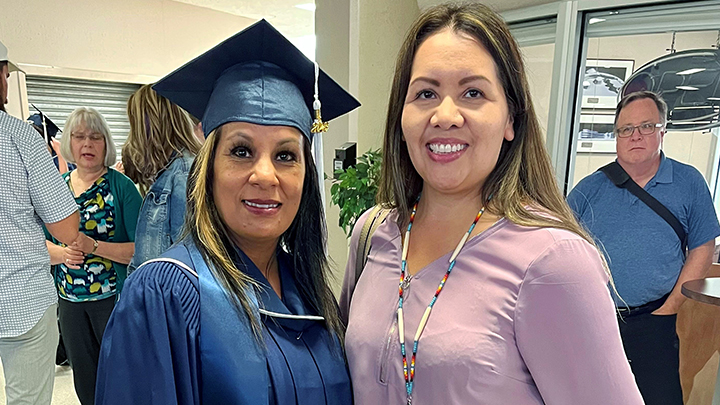 Amanda Merrier, left, and Leona Small, a senior advisor with the Indigenous Talent Acquisition team, share smiles at Merrier's graduation ceremony. Photo supplied.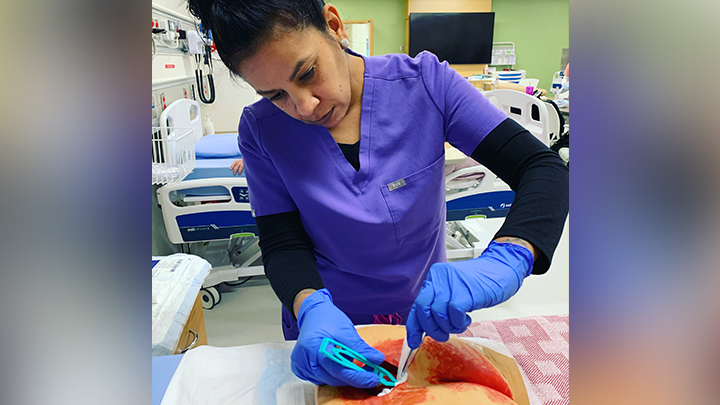 While attending school to become a Health Care Aide, Merrier and her classmates honed their new skills in the labs at Grande Prairie Regional Hospital. Photo supplied.
AHS employee inspired to take Health Care Aide training
Story by Cassie Ford
"I want people to know that if you see something and say, 'I wish I could do that' — you can."
Amanda Merrier recently graduated from the Health Care Aide (HCA) training program at Northwestern Polytechnic, but the path to her dream career was not a straightforward one. She spent many years working in retail and the service industry before taking on a role in Food Services at Alberta Health Services (AHS).
"I knew I wanted to work for AHS," says Merrier, "and when I got that job, I remember walking the hallway and thinking 'I've done it!'" She later took on a housekeeping role at the ambulatory care centre in Sylvan Lake where she watched the clinical workers around her and realized she wanted to work in patient care.
"One day I was talking to a coworker who is a Health Care Aide, and she said, 'If you want to have a role in patient care, why aren't you doing it?'"
Merrier decided to take action. She obtained her status card, applied for school and met with the Western Cree Tribal Council — an organization that coordinates services to three First Nations communities in the North Zone — to secure funding through the Indigenous Skills and Employment Training program.
Leona Small, a senior advisor with the Indigenous Talent Acquisition team, was instrumental in helping Merrier make that connection.
"I am responsible for identifying barriers within our system and helping our First Nation, Métis and Inuit applicants overcome those barriers," says Small. "It's not easy work, but it's very rewarding, and Amanda is definitely one of my success stories."
Small also helps managers and hiring supervisors diversify their workforce, which includes the hiring of Indigenous applicants.
Small explains that representation can have a huge impact on the experiences of Indigenous people in a healthcare setting.
"When my family goes into emergency, I have the fear they will not be looked after," says Small. "When you see an Indigenous person taking care of your loved one, it offers a feeling of reassurance and tells you, "We'll be OK."
Merrier has witnessed this effect firsthand. During her clinical practice, she met a First Nations resident with dementia who was agitated and upset.
"I learned a bit of Cree from my mother, so I sat down and said, 'Tansi' meaning 'How are you doing?'" she shares. "Right away his eyes lit up — somebody understood him."
Merrier sat with him while he opened up about his fears and his interests. They even discovered that he knew her grandfather. Merrier suggested staff play rodeo videos for the gentleman, something she learned he liked, and he settled in to watch.
"Advocating for him is one of the things I am most proud of," says Merrier, "I loved knowing this is a part of what my career will look like, and that patient will forever be a part of my why."
Merrier had to make some sacrifices to go back to school. She had to leave her home and her position in Sylvan Lake and move to Grande Prairie. She had to live apart from her husband, Blain. She would spend long days in school and then clock in to work in housekeeping at the Grande Prairie Regional Hospital (GPRH).
But she says it was all worth it.
"School was amazing," says Merrier. "The training was so hands-on. We got to do clinical practice in the hospital and work on units. And my love for healthcare grew stronger being in the new hospital."
GPRH partners with Northwestern Polytechnic to provide a health education centre within the hospital for healthcare training. Classrooms are located within the hospital, and students can access state-of-the-art laboratory and healthcare simulation spaces.
Now graduated (with first-class standing), Merrier is holding onto her part-time housekeeping role with AHS as she explores Health Care Aide opportunities with AHS.
Small looks forward to seeing what comes next for Merrier.
"When I walk into a facility and see a candidate who once sat across from me working as an employee in our organization, it gives me a sense that I have done my job," says Small. "That is the best reward anyone can get."