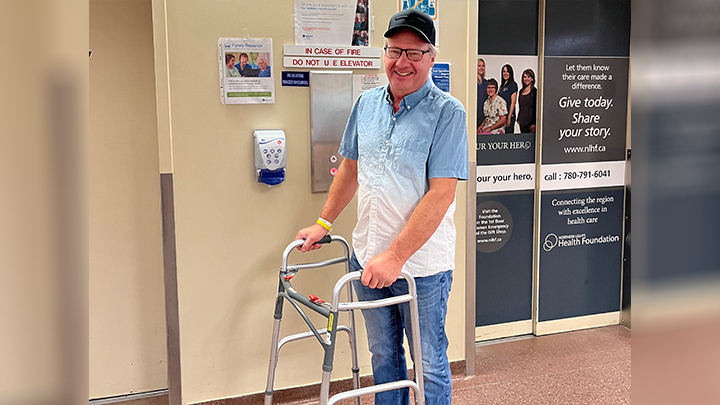 In July, Fort McMurray resident Gerald Ramsay became the first patient to have hip-replacement surgery completed at the Northern Lights Regional Health Centre as part of the Alberta Surgical Initiative.
Hip and knee surgical program expands to Wood Buffalo region
Story by Logan Clow
FORT McMURRAY — Hearing he could have his hip-replacement surgery in his home community came as welcome news for Gerald Ramsay.
In July, he became the first patient to have hip-replacement surgery completed at the Northern Lights Regional Health Centre (NLRHC) in Fort McMurray, as part of the Alberta Surgical Initiative.
"I'm thankful I was able to have the surgery done here in Fort McMurray," Ramsay says. "I already feel I have more mobility and less pain, and I'm walking and exercising regularly."
Ramsay underwent surgery on July 4 and arrived home at 12 p.m. the following day.
"My care experience was exceptional," he says. "The physician and staff were all so professional and kind. They really made it a comfortable experience for me. I really felt like a celebrity being the first patient to have a hip-replacement surgery done here."
NLRHC has three highly-qualified orthopedic surgeons who provide hip and knee surgeries. Fort McMurray now joins Hinton, Grande Prairie, Bonnyville and Westlock in the Alberta Health Services (AHS) North Zone as a centre that provides these surgeries.
"This has been a big team effort and it's very exciting for us," says Jordanna Lambert, Senior Operating Officer, North Zone Area 10. "Many AHS teams, staff, physicians and surgeons worked hard to make this surgical program a reality. We're very pleased."
Local surgical teams anticipate performing up to 32 surgeries a month before the end of 2023. On average, most hip and knee surgeries are completed within 60 to 90 minutes, and patients are discharged within a day or two, as discharge times vary based on complexity.
Prior to the program's launch in Fort McMurray, patients needing hip- and knee-replacement surgery travelled 435 km to Edmonton to have the procedure.
"Providing local residents with hip and knee surgeries faster, and as close to home as possible, has been a priority for us. This is a huge accomplishment," says Dr. Fauzia Haq Nawaz, Facility Medical Director, Northern Lights Regional Health Centre and Willow Square Continuing Care Centre. "I know our strong and skilled physician and surgical team are very excited and eager to offer these surgeries to patients."
Allied Health staff — physiotherapists, occupational therapists and therapy assistants — currently support patients receiving hip and knee surgeries at NLRHC. They work with patients before their surgery and up until their discharge. Staff determine equipment the patient will need post-surgery (e.g., crutches, bathroom equipment or a wheelchair) to support their daily living, develop exercise and rehabilitation plans, and assist with discharge planning.
"I'm incredibly proud of our Allied Health team for supporting this surgical program," says Shannon Schreyer, Manager, Allied Health, North Zone Area 10 "They provide excellent care to patients throughout their surgical journey. Most importantly, they ensure patients have the resources and tools they need to recover and restore their strength, flexibility and joint movement after their surgery."
---
The NLRHC surgical program is funded through the Alberta Surgery Initiative (ASI). Program planning included the recruitment of orthopedic surgeons and staff, the purchasing of equipment, and collaboration with the Alberta Bone and Joint Health Institute, Edmonton Bone and Joint Clinic, AHS North Zone facilities, patient advisors, and Primary Care staff and physicians.
AHS and Alberta Health began developing the ASI in 2019, with a focus on reducing surgical wait-times for Albertans. Through the strategies under the ASI, AHS continues to increase surgical activity in the province to get Albertans the surgical care they need within clinically recommended wait times. Read more here.