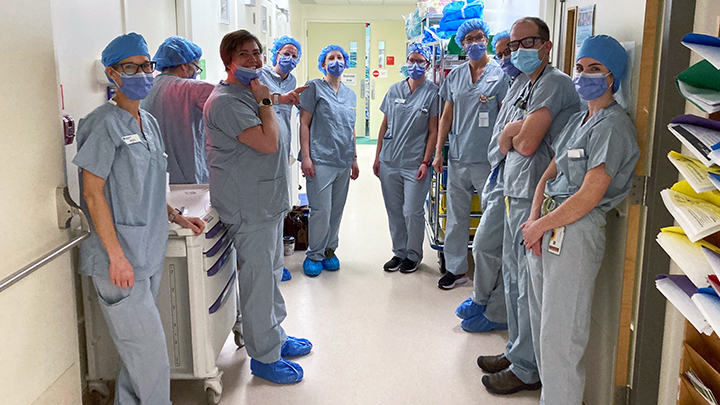 Members of the Taber Healthcare Centre team took part in simulation training through the eSIM program to practise skills that would be required during obstetrical emergencies.
eSim team brings simulation education to smaller communities
Story by Kathleen Deman
The need is growing for healthcare professionals in rural communities, which often face challenges, such as limited resources, geographical isolation and equipment availability as well as attracting and retaining healthcare providers.
The eSIM (Educate, Simulate, Innovate, Motivate) program has been helping rural communities ease these obstacles through the use of mobile simulation, which sees an eSIM team deliver Simulation-Based Education (SBE) to healthcare workers in rural and remote areas of Alberta.
"Rural sites are engaged, and they see the value of SBE and enjoy working together as a team," says Nadine Terpstra, eSIM Consultant, Red Deer and Central.
"When the manager and Clinical Nurse Educator collaborate with eSIM to do SBE, they work really hard to ensure staff can attend. Typically, the turnout is great, and sometimes we have an overflow of learners in a scenario."
Pediatric patients in rural communities often require a higher level of care than these sites can offer, resulting in the need to transfer them into children's hospitals. Roughly 40 per cent of inpatients at the Stollery Children's Hospital come from outside the Edmonton area. eSIM works with pediatricians, transport teams, and clinical education specialists to bring their extensive knowledge and experience to the mobile rural simulation program.
One example is the Westlock Health Centre Emergency Department. With support from the eSIM team, and in collaboration with the Stollery Simulation Program (SSP), a pediatric emergency education day was organized.
Dr. Jonathan Duff, SSP Medical Director and Pediatric Intensive Care Unit (PICU), assisted in providing a highly realistic environment for staff to practise their skills in the management of high-acuity pediatric patients awaiting transport to the Stollery Childrens Hospital.
"The addition of having a PICU physician available to consult the staff in Westlock elevated the realism of the scenarios," says Megan Rolleman, eSIM Consultant, Stollery Simulation Program. "It also allowed the staff in Westlock the opportunity to build confidence while practising these high-acuity, low-occurrence events."
Navigating maternal health situations in rural areas sometimes creates the most daunting challenges for healthcare providers. These scenarios, involving both the mother and the baby, demand swift recognition and treatment. While infrequent, these high-acuity events require rural clinicians and physicians to maintain proficiency across diverse clinical domains, including Labour and Delivery, Emergency Care and the Operating Room.
To meet these complex demands, eSIM organized an educational event tailored to the teams from Taber's Labour and Delivery and Operating Room departments. The event centred around two obstetrical emergency simulations: amniotic fluid embolism/seizure and preeclampsia. This initiative aimed to bolster the readiness of healthcare professionals in responding effectively to critical maternal health situations.
"It was great to have the OR and active care folks come together for this simulation, so we all feel more prepared for emergent maternity situations," says Colleen Pack, a Registered Nurse at Taber Health Centre. "It was good to do a real practice and use all the equipment, so we're comfortable with it when it's a real emergency."
Through innovative simulation training and research initiatives, members of the provincial eSIM team are committed to narrowing the gap in healthcare education and delivery through their extensive mobile outreach simulation training initiatives, carried out by eSIM consultants across all five zones of Alberta. Last year, more than 154 sessions benefitted 1,458 rural healthcare practitioners.
"I love learning about the unique resource and personnel challenges that our rural teams face," says Amanda Dyck, eSIM Consultant, Medicine Hat and Southeast, "and working with them to find solutions that improve process, teamwork, morale, safety and the delivery of patient care."
---
AHS is proud to celebrate Healthcare Simulation Week from Sept. 18-22. Learn more from the Society for Simulation in Healthcare.