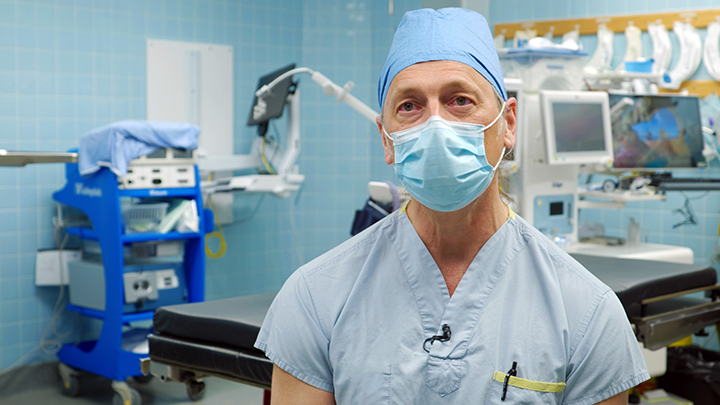 Though his practice may be based in Edmonton, Dr. Richard Bochinski regularly travels the roads of central Alberta to make use of rural operating rooms to better care for his patients both near and far. Photo by Evan Isbister.
Edmonton surgeon right at home in rural operating rooms
Story by Heather Kipling | Photo by Evan Isbister
The drive from Edmonton to Vermilion is one Dr. Richard Bochinski knows like an old friend.
For more than a decade, he's regularly travelled this route, rolling by the gates of Elk Island National Park, through rich agricultural farmland and past the world's largest pysanka (Easter egg) en route to rural operating rooms (ORs), where he operates on his patients.
"Even in the winter the drive isn't that bad," jokes Bochinski, a podiatrist whose clinic is in Edmonton, but who performs the surgeries his patients need in three hospitals outside the city — Vermilion, Wainwright and Camrose.
"When I first started practising, demand for OR time in Edmonton was very high and it was incredibly challenging finding space. I had to get creative and, after watching my father travel to Vermilion to see his urology patients, I thought I could do something similar."
The idea of going to the Vermilion Health Centre to use the site's OR came fruition in 2009 when Bochinski began his travels, visiting one day a month.
He now makes regular road trips to the Vermilion Health Centre two days every two weeks, and in between finds himself at the Wainwright Health Centre and St. Mary's Hospital in Camrose to do surgical procedures — ranging from correcting conditions such as hammer toe, foot ulcers, treatment of broken toes, foot and toe fractures to plantar fasciitis, foot ulcers and treating other common foot problems as ingrown toenails, corns and bunions.
"It's a winning scenario all the way around," ads Bochinski. "Patients are able to get in for their procedures and, in many cases, are able to get in sooner than they might in a larger centre, I'm able to do what I enjoy, and we're using these rural ORs to their potential.
"There can be some initial shock when patients learn they'll have to travel for their procedure, but once they get here, their reaction and feedback to the care received is incredibly positive. They enjoy the care and attention they receive, and they can be on their way home again before the day is done."
While the majority of patients Bochniski sees in Vermilion travel out from Edmonton, patients from the surrounding rural area also come to see him. For rural patients, it makes for a short trip to see a specialist that they would otherwise have to travel a greater distance to see.
"It's a such a benefit for our community," says Darlene McQuid, Site Manager at the Vermilion Health Centre. "Having access to a specialist outside the city reduces travel time for rural patients, while at the same time increases the surgical program we're able to offer for all patients regardless of from where they travel to us."
Six other surgeons currently rotate through the OR doors at the Vermilion Health Centre, including one who comes from outside the province.
"We have many elderly patients in the area and a lot of folks who otherwise might not be able to make it into the city for the care they need," adds McQuid. "Being able to offer the array of surgeries that we do here is something we're very proud of as a facility and as a team — and we're grateful to Dr. Bochinski and his colleagues."
Across the province, AHS is working to increase the utilization of rural ORs such as those in Vermilion, Wainwright and Camrose.
Ten sites the Central Zone currently receive traveling surgeons who perform a variety of procedures. Planning is underway to expand surgical programs in Innisfail, Stettler, Ponoka and Camrose to support more patients willing to make a road trip.
In turn, this increased use of ORs is helping to shorten surgical wait times.
"There can be a misconception sometimes that the care in rural would somehow be less than what a patient might receive in a big city, and that isn't the case at all," says McQuid.
"We have the same equipment, staff receive the same training and we follow the same procedures. The only difference is the size of our facilities."
In addition to doing five to seven surgeries while on a visit to Vermilion, Bochinski also takes about 20 medical appointments each day before he travels back home to Edmonton to rest up for his next road trip.
"I really enjoy working in the rural sites. There is a wonderful surgeon-to-nursing staff-to-patients ratio — and the rural OR teams are exceptional.
"It isn't for everyone, just as it isn't for every practice. You couldn't have patients travel for brain surgery for example, but there is a sweet spot for surgeries that fit really nicely into this model of healthcare."