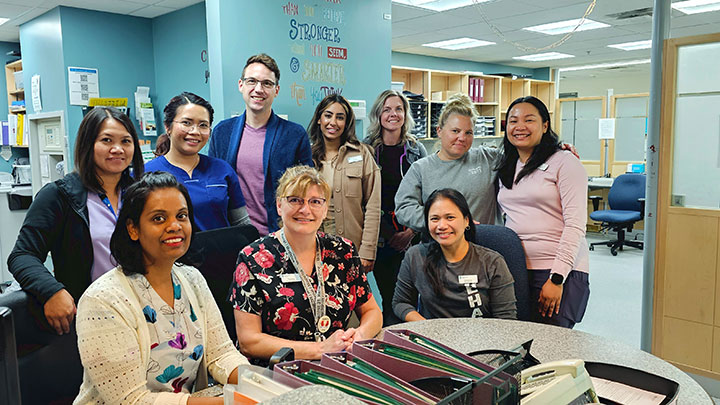 "It takes a village to plan an effective discharge!" say team members at Red Deer Regional Hospital Centre. Shown are, front row from left: RN Vineeta Mullapudi, head nurse Tammy Anderson and physiotherapist Christine Caballero. In rear, from left, are: unit clerk Ruth Jacobs, RN Janica Bacuentes, quality consultant Nathan Maskowitz, acute care manager Ruby Ubhi, LPN Sandy Anderson, therapy assistant Lauren Goodman and RN Glynnis De Guzman.
Red Deer team uses Traffic Lights tool to trim stays in emergency
Story by Jonathan Koch
RED DEER — A Connect Care-driven innovation is improving care-team collaboration and getting patients home sooner at Red Deer Regional Hospital Centre (RDRHC).
While the hospital is where one wants to be if they're sick or injured, the longer a patient is in hospital, the more likely it is they'll lose muscle mass and develop health complications, says Dr. Adam Hall, a specialist in internal medicine and critical care medicine at the hospital.
"So, the faster we can turn people around, the more likely they are to be able to go home with the same level of functioning that they had coming in," adds Hall.
To ensure patients have a clear timeline to return home for recovery, care teams aim to assign inpatients an Expected Discharge Date (EDD) within 48 hours of entering the hospital. EDDs are reviewed and updated regularly during RAPID (Review, Assess, and Plan for Imminent Discharge) Rounds, where all members of the care team work together to achieve the target date.
While EDD and RAPID Rounds are intended to address barriers to a prompt discharge, difficulties getting the care team together in-person to exchange information can delay patients returning home.
To counter this, when Connect Care came online in Red Deer in November 2022, staff identified an opportunity to use the platform to improve communication and awareness of discharge readiness.
The RDRHC Medicine program partnered with Clinical Quality Improvement (CQI) and — after consulting with the CoACT Collaborative Care team — started using the Traffic Lights tool in February, an extension of the RAPID Rounds process used in AHS facilities throughout Alberta.
This colour-coded multidisciplinary readiness summary — commonly referred to as Traffic Lights — enables members of the care team to indicate a patient's discharge-readiness status on the Connect Care platform by selecting a red (not ready, remains acute), yellow (waiting for something), or green light (ready to discharge).
Since the launch of Connect Care, the frequency of EDDs being assigned to patients within 48 hrs. of admission has improved to 97 per cent from 36 per cent.
With improvements in patient flow, emergency department stays for admitted patients have been cut to 29 hours from an average of 50 hours.
This innovation has been a game-changer, says Mike Dew, manager of the neurology and medicine unit at RDRHC.
"Traffic Lights allows us to address barriers to discharge in a faster fashion, whereas before Connect Care, there was often a delay to find out whether a patient was cleared by all the members of the care team. Now we know in real time what needs to be addressed so we can advocate for the patient," says Dew.
Ruby Ubhi, acute care manager for the nephrology and general medicine unit, says her team is more focused on the plan for their patients and the next step of their journey, now that collaboration among multidisciplinary team members is being captured in a simple, accessible format on Connect Care.
"We're seeing more proactive discharge planning occurring, which leads to better discharges, which promotes positive patient outcomes once we get them back home or to their next site of care from hospital," adds Ubhi.
This proactive planning is crucial to keep patients' families informed and able to plan for their loved one's return home, adds Carmen Petersen, director, adult critical care and inpatient medicine.
"Sometimes people think they're going to be fine taking someone home and then they get to a certain point where it starts to become reality and they realize, 'no, this this is not going to work for us,'" says Petersen. "Having that date documented is something that prompts those conversations."
Dr. Hall adds that, ultimately, this innovation brings the whole care team together and onto the same page, with the same common goals for their patient.
"It's really nice to be able to look at one place, one source of truth, and there's the plan moving forward."