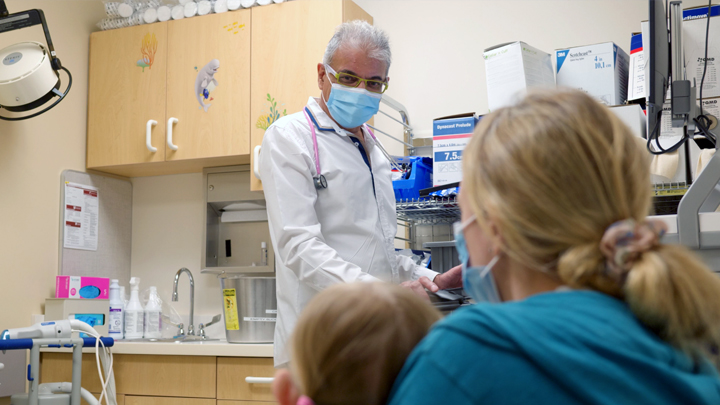 Caption for photo: Dr. Jay Patidar gives a young patient a checkup in the new pediatric clinic at WestView Health Centre in Stony Plain. Photo credit: Photo by Evan Isbister
WestView improves care while cutting travel for area families
Story by Adriana Amelio | Photo by Evan Isbister
STONY PLAIN — Young patients and their families are being better served closer to home thanks to a new general pediatric clinic at WestView Health Centre.
The clinic opened in January thanks to Dr. Jay Patidar, who previously provided a pediatric asthma clinic at the hospital. When he saw the increasing need for general pediatric consults in the community, he decided to dedicate more of his time to opening the twice-monthly clinic.
"We're very excited to have the general pediatric clinic here at the hospital," says Ellen Elliott, Site Director for WestView Health Centre.
"Dr. Patidar has worked in this community since 2011. When he had the opportunity to expand his general pediatrics clinical service, we were thrilled that he chose to come to WestView. For our patients, this is the first time they can access pediatric consults without travelling into Edmonton — and that means a lot for our community."
WestView turned out to be the perfect setting, as the site already had available clinic space and clerical resources to support a new clinic, with no additional equipment or staff required. The pediatric clinic is sharing space with the hospital's cast clinic, geriatric assessment clinic, pediatric asthma clinics and home living clinics.
"This idea has been brewing in my head for the last two or three years, because there is no pediatrician service in Stony Plain and Spruce Grove area," adds Dr. Patidar.
"I'm passionate about this because access to a pediatrician is so important for catching issues as soon as possible, so that we can find a resolution quicker, and get families back to their regular activities."
The clinic runs on a referral model. Patients are referred by their family physician. Once assessed by Dr. Patidar, patients are returned to their family physician with a care plan.
The new clinic is breaking down barriers — time, financial resources and travel — that may have previously prevented access to specialty care for families in town and across the region. It also improves proximity and access for families west of Edmonton, including those in Alexander First Nation and Paul First Nation.
As well, with the opening of this clinic, timely access to medical consults and referrals to specialized programs such as the Pediatric Specialized Rehab Outreach program at the Glenrose Rehabilitation Hospital in Edmonton will be more accessible to area families. The clinic currently runs from 9 a.m. to noon, two days a month.
"When we received a pediatric referral, I thought we would have to plan for a trip into Edmonton," says Stony Plain mom Kenzie Broadbent. She and her daughter Emryn, 2, were pleasantly surprised with only having to travel five minutes to WestView.
"It feels great that this is available now, I think anyone with young kids would agree."
---
Learn more about WestView Health Centre's new general pediatric clinic. Watch our video.