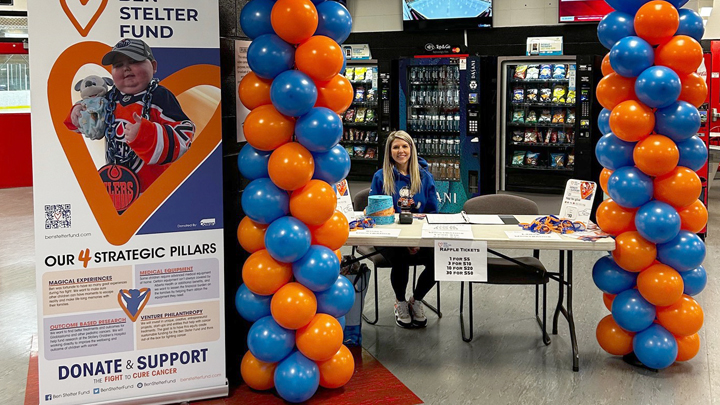 Lea Stelter sells raffle tickets in memory of her late son Ben Stelter. Lea and her husband, Mike established the Ben Stelter Foundation to honour Ben's legacy and improve the lives and outcomes of children living with cancer. Supplied.
Awards recognize exceptional donors to health foundations
Story by Amelia Schofield
This November 15 marks National Philanthropy Day, a special awareness day that recognizes exceptional donors and volunteers across North America.
Each year, the Association of Fundraising Professionals (AFP) holds award programs to recognize generous individuals, groups and organizations in communities such as Edmonton and Calgary. Several of Alberta Health Services' philanthropic partners take part by submitting nominations for these awards.
"AHS is grateful to the many incredible Albertans who support healthcare delivery by donating their time and resources to our foundation and auxiliary partners," says Mauro Chies, President & CEO of Alberta Health Services. "Their investments in healthcare make a truly significant impact on our patients, their families and healthcare professionals across Alberta."
This year, AHS' philanthropic partners have nominated the following Albertans for AFP National Philanthropy Day Awards:
Altitude Investments: After two years of canceled events, and last-minute virtual event changes due to COVID-19, Altitude Investments remained steadfast in their commitment to be the presenting partner of the Mental Health Foundation's signature fundraising event, the Annual Breakfast. In advance of the 2023 Breakfast, Chris and Lisa LaBossiere of Altitude Investments embarked on a personal appeal within their network in search of like-minded donors to help cover the expenses linked to large-scale fundraising events. Their generous efforts resulted in the Mental Health Foundation's most successful breakfast fundraiser of all time.

Leslie Bangamba: In spring 2020, a tragic accident led to Leslie Bangamba's daughter Amélie receiving care at the Stollery Children's Hospital. Following this experience, Leslie became a fierce advocate for the Stollery and, since then, has shared her story at Stollery Children's Hospital Foundation events, through local and national media and more, inspiring Canadians to show their Stollery support. Since April 2020, Leslie has raised significant funds for the Stollery Children's Hospital through both personal donations and Amélie's annual birthday fundraiser.

Bellerose Composite High School: In 2004, Bellerose Composite High School began the Bellerose Bikeathon with 10 teams. It's since grown into a school-wide event involving the entire community. The bikeathon itself raises funds for the Alberta Cancer Foundation and Kids with Cancer Society. In addition, the School holds a head-shave event to raise funds for the Stollery Children's Hospital Foundation. Through its highly successful event, the School has raised significant funds for cancer research and treatment, as well as advancements for pediatric patients at the Stollery Children's Hospital.

CN: CN is invested in an Alberta-wide collaborative effort to simplify the way young people and their families access a full spectrum of mental health supports. CN recently made a generous gift to Kickstand Alberta, a program offering free mental health support and substance counseling to youth aged 12-25. Through their support, CN is helping to build safer, healthier, and stronger communities across the province.

Co-op: After recognizing a need for further mental health supports in rural communities, Co-op sought to find a way to connect their dedicated staff and the residents within their own neighborhoods. The "Communities in Mind" till campaign — which encourages donations at the till — was created and began in Vermilion with one participating Co-op trading area and 16 stores. Since 2020, the campaign has expanded to include five Co-op regions, more than 85 stores, and has raised significant funds for mental health resources and programs in rural Albertan communities spanning from Valleyview to Carstairs.

Cure Cancer Foundation: Bringing together decades of experience in fundraising for cancer research and treatment, the Cure Cancer Foundation cares deeply about supporting those living with cancer and finding a cure for the disease. This year marked the 34th Annual Glenn Anderson Day of Golf for the Cross Cancer Institute, hosted by the Cure Cancer Foundation. This highly successful golf tournament, along with other events The World's Longest Games and the Toast of the Town, have raised millions of dollars for cancer research and treatment in Alberta.

The Dodd Family: The Dodd Family's (Lindsay, Deb and children Michael and Alexis) connection to the Stollery Children's Hospital began when Michael needed emergency care in 2001. Following their experience, they were moved to support the Stollery Children's Hospital Foundation. Lindsay joined the Foundation board in 2014, and during his tenure has enjoyed many roles, including Board Chair. Deb sits on the advisory committee of the Stollery Women's Network, while Michael and Alexis have participated in many fundraising events. In addition to their annual gifts and volunteerism, the Dodds have also joined the Foundation's Great Bear Society and plan to leave a gift in their will to the foundation.

Ed & Irene Hawryluk: The Hawryluks are a philanthropic family who support several causes. Inspired by an experience at the University of Alberta Hospital as a young adult, Ed and his wife Irene have become dedicated supporters of the University Hospital Foundation. Their generous contributions have included tremendous support toward Alzheimer's research, as well as cardiac care and neurology. In addition, they made a significant pledge to the foundation as part of a matching gift campaign that brought in donations from more than 3,800 donors over three years.

Donald Hunter: As a generous donor and volunteer with the University Hospital Foundation, Don has contributed a significant amount of his time toward raising funds for Alzheimer's disease research. Don has sent hundreds of letters to those in his community who have a connection to someone affected by Alzheimer's disease. He's a committed advocate for advancing this research and helps to inspire others to support this important cause.

Hunter Family Foundation: The Hunter Family Foundation focuses on finding solutions for complex health and social issues, which includes supporting the mental health and well-being of young people. The foundation's recent gift to the Mental Health Foundation is helping the continued expansion of Kickstand services, providing Alberta's young people with the mental health and substance use support they need, in an integrative, easily accessible delivery model.

Cheryl's Run – Norma Kennedy: Since Norma Kennedy began the Cheryl's Run for Aplastic Anemia in 2017, the event has raised significant funds for the Stollery Children's Hospital Foundation as well as raise awareness for Canadian Blood Services and the need to give. For the past two years, Cheryl's Run has supported the Awasisak Indigenous Health Program at the Stollery Children's Hospital, which serves and supports Indigenous patients and their families throughout their hospital stay and after discharge.

Ledcor Group of Companies: Ledcor has been a long-time supporter of the Stollery Children's Hospital Foundation. Their organization has an active employee giving group and in celebration of the company's 75th anniversary, they made a significant donation to the foundation. Their special gift allowed the Stollery Children's Hospital to provide a hot Easter meal to more than 250 families.

Neil MacPherson & Boston Pizza: Boston Pizza has been an advocate and supporter of the Mazankowski Alberta Heart Institute (Maz) for more than four years. Neil's family started the Boston Pizza Paper Hearts Fundraiser and has expanded it to all of Boston Pizza's franchises. For the campaign's 30th anniversary, more than 60 franchise owners across Alberta came together to support the Maz as part of their Heart Month fundraising activities. Neil is a dedicated, selfless and passionate fundraiser for the Maz, and has made a major impact through his hard work.

William & Mary Rachwalski: After successfully receiving triple-bypass surgery, William and his wife Mary wanted to say thanks for care they received at the Mazankowski Alberta Heart Institute. To show their gratitude, William and Mary made a generous gift to the University Hospital Foundation for the purchase of a new cardiac echo machine with probes, a state-of-the-art piece of equipment that helped save William's life.

RBC Foundation: RBC has demonstrated a true commitment to young people's access to mental health care. As an early supporter of the Kickstand program, RBC is one of the largest and longest contributors to the Mental Health Foundation. Their continued contribution to Kickstand is helping ensure young Albertans have accessible mental health care when and where they need it.

Cathy Roozen: For more than 35 years, Cathy has been a supporter of the University Hospital Foundation. During this time, Cathy has supported many areas of care including Multiple sclerosis, Alzheimer's disease, stroke, prostate and urology, cancer research and osseointegration. Her contributions as a philanthropic community leader are advancing healthcare in Alberta and beyond.

Dr. Lalith Satkunam: Dr. Lalith Satkunam is the medical lead for the Spasticity Program at the Glenrose Rehabilitation Hospital, where he works tirelessly to provide the best possible care to his patients. In addition, his exceptional contributions to the Glenrose Rehabilitation Hospital Foundation have not only enriched the lives of those he directly cares for, but have also created a ripple effect of positivity throughout the Glenrose community. Through his actions, Dr. Satkunam embodies the philanthropic spirit, leaving an enduring mark on both his patients and rehabilitation healthcare.

Mike Saunders: With his commitment to enrich Edmonton, Mike contributes his time and expertise to various community boards, showcasing his genuine drive for positive change. His significant commitment to the Glenrose Rehabilitation Hospital Foundation is demonstrated through event sponsorship, dedicated committee engagement and as a donor to the Foundation's Circle of Courage program. Through his many contributions, Mike plays a pivotal role in advancing the equipment, programs and technology available at the Glenrose Rehabilitation Hospital.

The Ben Stelter Foundation: Created in memory of Ben Stelter, the Ben Stelter Foundation has demonstrated an outstanding commitment to improve the lives and outcomes of children living with cancer. The legacy of Ben's big heart and generosity has inspired and connected the Edmonton community. In his honour, the Ben Stelter Foundation has partnered with the Stollery Children's Hospital Foundation to support innovative, outcome-based oncology research. It recently launched the Ben Stelter Equipment Program, which aims to reduce the financial burden for families who need specialized equipment to safely return home from the hospital.
---
For more information on AHS' philanthropic partners and how you can show your support, please visit ahs.ca/give.
— Written with content contributed by foundations