Living Well and feeling great
Living Well and feeling great
July 26, 2011
Bonnyville woman learns to manage chronic disease and help others
Story by Tara Grindle
Gwen Taralson's journey to living a healthy life has taken her from student to teacher, as she shares her experience with those learning to manage chronic disease.
Now a facilitator for Living Well, a chronic disease self-management program in Bonnyville, Taralson can vividly remember the single moment that changed her life. It happened when she tried to get on an all-terrain vehicle (ATV) at her home. She realized she wasn't physically able to do this simple task and she was faced with a critical decision.
"I said, 'Gwen, do you want to live or die?' " says Taralson who was overweight and diagnosed with high blood pressure.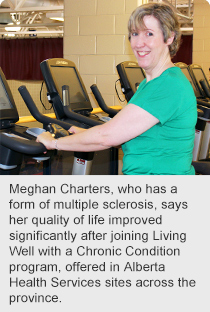 With her young grandchildren in the forefront of her mind, she decided to take the first step towards getting healthy. To kickstart her transformation, Taralson removed herself from her current lifestyle and attended a wellness retreat.
"That was good but, when I came home, I needed something to keep me going," says Taralson.
That's when she saw an ad in the Bonnyville newspaper for Alberta Health Services' chronic disease self-management classes. She eagerly enrolled and also joined the free exercise program for people living with chronic conditions.
"The courses were a good reminder of a lot of things I'd learned in the past but had maybe forgotten," says Taralson. "We talked about goal-setting and I learned that I needed to take control of my own life."
Living Well invites participants to attend six weekly workshops. Each two-and-a-half-hour session is led by two trained volunteer leaders, or one volunteer leader and one health professional. At least one volunteer leader has a chronic condition.
The workshops use peer role modelling to share information about nutrition, physical activity, symptom management, medication management, dealing with difficult emotions and planning for the future. The workshops do not deliver disease-specific information; rather, they provide a supportive environment for participants to practise new coping and management skills, and keep using them long after completing the program.
"Anyone with a chronic condition has to make a lot of changes," says AHS self-management coordinator Sarah Greenfield. "It's one thing to be told what you need to do but another thing to know how to get there. This program gives people the support and information they need to make those changes."
The changes Taralson made have impacted every aspect of her life. For three years, Taralson has continued to build healthy habits, eating well and staying active. She now enjoys riding her ATV again as well as biking, walking, water aerobics and, of course, chasing her grandchildren. Physically, she lost 120 pounds and no longer requires blood pressure medication. Mentally she's now much happier and enjoying more social activity.
Taralson decided she wanted to help others, as others helped her, so she enrolled in a free, comprehensive four-day session that trains volunteers to become workshop leaders.
Greenfield says Taralson's experience and journey has a powerful message that can help others.
"Because Gwen's is so passionate, she was a perfect candidate to become a program facilitator," says Greenfield.
Bonnyville residents can be referred to Living Well through a family physician, or they can call to register locally by dialling 1-877-349-5711.
AHS offers similar chronic disease self-management programs across the province. Common chronic conditions include obesity, diabetes, high blood pressure, arthritis, asthma and heart failure.