Better Choices, Better Health
Better Choices, Better Health
September 26, 2011
AHS launches provincewide chronic disease self-management program
Story and photo by Tara Grindle
Mary Ann Britt needed help to better control her Type 2 diabetes, so she went to the experts.

The Calgary woman joined a free, local chronic disease self-management program led by Alberta Health Services (AHS) staff and trained volunteers, all of whom had at least one chronic disease.

"Participants really enjoyed how this program was set up," says Britt.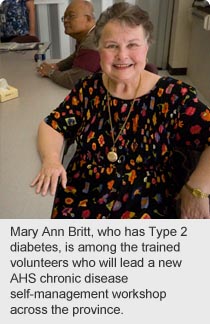 "There was interaction, we set goals and helped each other problem solve. It was also good because it wasn't focused on one disease. It approached things from a broad sense."

Britt eventually joined the program as a trained volunteer. That Calgary program, and many others like it across the province, are now being consolidated under the name Better Choices, Better Health™, which is designed to give Albertans with chronic diseases additional support to take control of their health and to improve their quality of life.

Six weekly workshop sessions are designed to help people living with ongoing health conditions, such as diabetes, heart disease, arthritis, asthma, high blood pressure, chronic pain and obesity. Having the sessions led by individuals who have a chronic disease ensures an empathetic and encouraging environment.

"We've run these programs throughout the province in the past," says Dr. Peter Sargious, Medical Director of Chronic Disease with AHS. "What we've been able to do now is bring those programs together under one name and provide workshops that are consistent regardless of where you live."

Sharing information to prevent and manage chronic diseases is among the goals outlined in the
5-Year Health Action Plan, jointly developed by the Government of Alberta and AHS, and supported by the province's stable, 5-year funding.

Better Choices, Better Health™ workshop sessions address such topics as:
Handling pain and fatigue. 
Managing medications. 
Dealing with difficult emotions. 
Healthy eating and activity. 
Problem solving and goal setting. 
Communicating with health care providers.
Better Choices, Better Health™ workshops will be offered in about 60 communities at various times over the next year. 
More than 270 Canadians, including nearly 190 Albertans, participated in an online version of the self-management workshop during a pilot project that concluded last November. AHS is now exploring ways to expand this service across the province, so individuals in remote areas or who are unable to travel outside of their home can benefit.

"We've reached our first goal of bringing together all self-management programs in the province but this is really just the beginning," says Sargious.

"We're laying the foundation for future growth."

Telephone numbers to obtain schedule and registration information can be found at www.albertahealthservices.ca/bcbh.asp. More information on the program is also available by calling Health Link Alberta at 1-866-408-5465.

Better Choices, Better Health™ is a component of the recently released AHS Obesity Initiative, a comprehensive five-year plan to address the prevention and management of obesity. Obesity is the most prevalent chronic disease in Alberta and is linked to about 20 other chronic conditions.

Better Choices, Better Health™ is based on a workshop developed by Stanford University in Palo Alto, Calif.