Edmonton's DIL Walk to get hearts pumping
Edmonton's DIL Walk to get hearts pumping
June 14, 2013
Event to promote cardiac health among South Asian community
Story by Greg Kennedy; Photo by Dale McMillan
A slim, fit man who loves to pump iron at the gym, Jagtar Gill got the surprise of his life a few years ago when he found himself experiencing shortness of breath during his workouts — and his doctors prescribed heart surgery.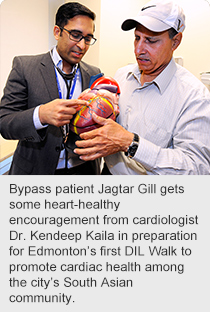 The Edmonton city bus driver believed he was doing everything right but, looking back, he now believes his rich buttery and bread-heavy South Asian diet may have done him in.
"It's very important to watch your heart health, especially if you find yourself short of breath or having a hard time on stairs," says the 59-year-old. "I was in good health and went to the gym every day. I thought I was fine but I ended up with a coronary bypass. Now I eat very healthy food. No fried food. No salt."
Preventing heart attacks before they happen in Edmonton's high-risk South Asian community is the focus of DIL Walk, a free day of heart-healthy activities and information.
More than 100 attended Edmonton's inaugural event, which was held on Saturday, June 15 at J. Percy Page High School. Dil means 'heart' in Punjabi, Hindi and Urdu.
"The best form of cardiac treatment is prevention of the disease, and that idea is certainly at the heart of DIL Walk," says Dr. Sudheer Sharma, a cardiologist at the CK Hui Heart Centre, Royal Alexandra Hospital.
Currently estimated at 50,000 people, Edmonton's growing South Asian community is now believed to be the city's largest ethnic group, slightly larger than the Chinese community.
Dr. Kevin Bainey, an interventional cardiologist at the Mazankowski Alberta Heart Institute, says South Asians originating from the Indian subcontinent are at the highest risk of having a heart attack compared to any other ethnic group in Canada.
People of South Asian heritage develop severe heart disease 10 years earlier, on average, than the Caucasian population, for reasons that remain under investigation.
Research has also shown people of South Asian descent have a three- to five-fold increase in risk of heart attack and death from cardiovascular disease compared to other groups.
Cardiac nurse and event co-ordinator Tanya Gosine says diet may play a role in a heightened risk of heart attack in people of South Asian descent.
"We eat all sorts of things like paneer (curd cheese) and roti (naan bread) and things that are filled with high-fat dairy products as well as lots of sugar," she says. "You can still make these dishes but use skim milk and low-fat products."
DIL Walk participants have an opportunity to attend a wide variety of classes — on diabetes, sleep apnea, blood pressure, medications and heart-healthy Indian diet — led by family physicians, a respiratory therapist, a pharmacist and a registered dietitian. The classes will be held in Punjabi, Hindi, Urdu and English. Drs. Bainey and Sharma will also speak on the topic: Cardiovascular Disease in South Asians: Nature versus Nurture?
Participants can have their blood pressure and blood sugar checked, and waist circumference measured. They can also be screened for sleep apnea. This information is entered into a personal passport for participants to take home, in hopes they'll show it to their primary care physicians to further help them self-manage their health and promote wellness.
After a Bollywood dance class with the Jeevan Gopal Dance Academy, participants will take a short DIL Walk around the school grounds, followed by a free lunch and closing remarks by cardiovascular surgeon Dr. Arvind Koshal, senior medical director of the Mazankowski.
"We must reevaluate and optimize our South Asian diets, and we must embrace and incorporate exercise and physical activity into our lives," says Dr. Sharma. "The benefits are clear and the rewards last a lifetime. DIL Walk is a great place to start."
While South Asian countries include India, Pakistan, Bangladesh, Nepal and Sri Lanka, historical migration from the subcontinent also includes those from Fiji, Trinidad, Tanzania and West Indies.
DIL Walk sponsors include the Royal Alexandra Hospital Foundation, Advanced Cardiology, Abbott, AstraZeneca, Bayer HealthCare, Merck, Medical Imaging Consultants and Subway, among many other firms and health care volunteers. Many community organizations will also set up booths in a health fair designed to share knowledge and offer links to local resources.