Edmonton doctors, researchers pioneer new use for ultrasound imaging
Story by Gregory Kennedy; Photo by Dale MacMillan
EDMONTON — "When I got diagnosed with scoliosis, I thought it was cool at first," says 14-year-old Teva Quix.
"But once I put my brace on — it wasn't."
In six months, the Devon resident will not only be free of her brace but she will have contributed to groundbreaking research that will help others with scoliosis grow up straight and strong in the future.
The Grade 9 student has been receiving accurate monitoring of her condition and spinal growth with ultrasound imaging, without the need for X-ray exams which, while safe, nevertheless expose patients to small amounts of ionizing radiation.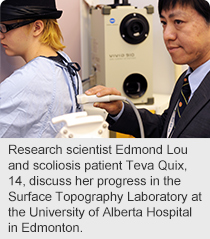 Keeping tabs on Teva have been research scientist Edmond Lou and his Alberta Health Services (AHS) team, based at the Glenrose Rehabilitation Hospital and Stollery Children's Hospital.
They are global pioneers in the use of ultrasound imaging to measure the severity of scoliosis — a sideways curvature of the spine that occurs most often during the growth spurt just before puberty. Severe scoliosis can be disabling, as it reduces space in the chest for lungs to expand during breathing.
"While the idea of using ultrasound is not new — in fact, it dates back to the 1980s — it's only in the last five years that the technology has evolved to the point where it can produce an image with the clarity we need for scoliosis care," says Lou, also an assistant professor with the Faculty of Medicine and Dentistry at the University of Alberta.
"As well, the software capability to construct 3-D images from ultrasound data did not exist back then. We've developed proprietary software to process the data faster, which makes it easier for us to measure and visualize spinal curvature with ultrasound, so we can predict which curves are at higher risk to get worse. Ultrasound holds the promise of better fitting of braces and orthotics."
Quix says she prefers ultrasound monitoring.
"Yeah, because it's a lot quicker. Plus I think it's cool that you can see (your spine) in a different way than in the X-ray," she says.
Currently, children with scoliosis are monitored closely; X-rays are taken twice or more a year to gauge if the curve is getting worse. For mild cases, no treatment is necessary.
Some children may need to wear a brace with pressure pads, while others may need surgery to straighten severe spinal curvature. About 1,300 adolescents are now in treatment for scoliosis in Edmonton, with 400 new cases diagnosed each year. Diagnosis typically occurs between ages 8 to 15.
A scoliosis checkup typically requires at least two X-rays, a front and a side view, to allow precise measurement and visualization of spinal curvature, which determines the course of treatment. With checkups every six months or more, it's not unusual for teens with scoliosis, after years of monitoring, to have undergone dozens of X-rays.
"X-rays are safe but, if we can prevent patients in their formative years from being exposed to low levels of ionizing radiation, that's preferable," says Lou.
"The amazing work that Edmond and his team are doing with ultrasound imaging has led to a safe, reliable and easy-to-use tool that will dramatically improve the assessment and non-surgical management of children with scoliosis," adds Jim Raso, Senior Consultant for Research and Technology at the Glenrose Rehabilitation Hospital and President of the International Research Society of Spinal Deformities.
Ultrasound is also more cost-effective. An ultrasound machine costs $100,000 — compared to $500,000 for an X-ray unit. Meanwhile, as ultrasound research advances, the scoliosis clinic is in the process of acquiring an EOS dual X-ray system, which can capture front and side views of the spine simultaneously, with very low radiation when compared to standard X-ray systems.
Exposure to ionizing radiation (X-rays), associated with monitoring of scoliosis, has been linked to an increased risk of breast cancer in females, who make up the majority of scoliosis cases.
At the end of June, Lou will share his research at the International Research Society of Spinal Deformities meeting in Sapporo, Japan, representing Edmonton engineers and surgeons who comprise the scoliosis group at the Glenrose and Stollery hospitals. The Research Society is one of the leading research groups in the world and this is one of the major meetings for these researchers.
"Clinical research has its highest and greatest value when it comes to life and helps patients at the Glenrose," says Wendy Dugas, President & CEO of the Glenrose Rehabilitation Hospital Foundation.
"Supporting Edmond's scoliosis research is a perfect example of how we are committed to ensuring the Glenrose stays at the forefront of specialized rehabilitation by supporting trailblazing projects that translate science into interventions that improve care."
Additional funding for the scoliosis team was provided by Edmonton Orthopedic Research Committee; Women & Children's Health Research Institute; Edmonton Civic Employee Charitable Assistance Fund; Northern Alberta Benefits Society for Scoliosis; and Natural Sciences and Engineering Research Council of Canada.