Smart watch could be used to help determine cause of tremors: study
Story by Greg Harris; Photo by Paul Rotzinger
Don Williams finds that the best medicine for his Parkinson's disease is making music with the Calgary-based Prairie Mountain Fiddlers.
"It provides good fellowship, it's good for the nerves, and it's good for the positive nature of the whole thing," Williams says.
"Music activates a part of the brain that puts out dopamine so, if you listen to music or play music, it's good for you if you have Parkinson's."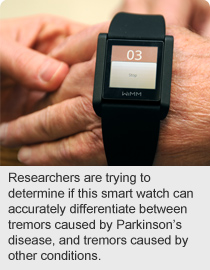 So far, the 78-year-old Williams has avoided having to take medication for the tremor in his left hand, which in 2009 was diagnosed as a Parkinsonian tremor.
But not all diagnoses involving tremor are clearcut, something that's led an Alberta Health Services neurology resident to complete a research study showing a smart watch can differentiate between types of tremor.
"In some cases, we have to wait and see how the tremor progresses before we can make a definitive diagnosis," says Dr. Daryl Wile, who carried out the study.
"Having a simple, non-invasive test that doctors could use in the clinic could lead to earlier diagnoses and, in the case of Parkinson's, could one day get patients started on protective therapies before the illness progresses."
Parkinson's disease is a neurodegenerative disorder that most often occurs after the age of 50. It can cause tremors, slowness in movement and difficulty with walking. Medications commonly alleviate symptoms by increasing dopamine levels. In its later stages, Parkinson's can also cause problems with speech, mood, behaviour and thought.
Another type of tremor doctors commonly see, called Essential Tremor, is a benign tremor that commonly runs in families. It most often affects the hands and can make simple tasks such as eating difficult. Symptoms can often be controlled with medication.
Dr. Wile says the smart watch technology could also one day be used by patients in their homes to wirelessly transmit data on the frequency and severity of their tremors, providing physicians with valuable information on how they're responding to medication.
Williams, for his part, intends to carry on with his music and avoid medication for as long as he can. He plays bass fiddle, violin, ukulele, five-string banjo and autoharp.
"A lot of people with Parkinson's start to shuffle and lose their balance, but I haven't had any trouble with my balance at all," he says.
He visits his neurologist every six months to have his condition reassessed and to find out whether he can remain medication-free.
Dr. Wile says the next step in the research could be to see if the test he's developed using a smart watch is as accurate as a specialized PET scan (positron emission tomography), which is currently the gold standard for confirming cases of Parkinson's where the symptoms are unclear. PET scans for diagnosing Parkinson's are currently offered in only a handful of centres in Canada.
The research study was recently published in the Journal of Neuroscience Methods.