CommuniKits help long term care residents with speech problems to reconnect
Story by Kirsten Goruk; Photo by Christine Berget
For most of us, communicating is a simple act: We open our mouths and the words come out. It's not always as easy for some people though, which is why Alberta Health Services (AHS) staff in the North Zone have introduced the CommuniKit in long-term care facilities.
Developed by staff at the Trillium Health Centre in Mississauga, Ontario, the North Zone's Allied Health department purchased a number of the CommuniKits after seeing them at a health fair.
In February the kit officially "launched" during a Telehealth Lunch and Learn session hosted by the Therapeutic Recreation program. The session was attended by staff from a variety of disciplines.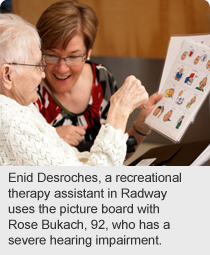 The kit is designed to help patients who have speech and hearing difficulties find creative ways to converse. It contains multilingual boards, a yes/no board, an alphabet chart, time and calendar boards, body parts chart, rating scale, dry erase board, and communication strategies for various speech disorders such as dementia and aphasia.
"We use all parts of the CommuniKit. We've even added things to it at some sites. For example, if we need a communication board in a particular language, we'll make one," says Cynthia Pruden, clinical lead for speech language pathology in the North Zone.
"We've aimed to put a Communikit in every long term care centre where there is a recreational therapy department, but we would like to see it in every hospital in the North Zone – especially on our acute care units."
Residents can use the kit to help communicate with staff about their health concerns. For example if they are experiencing pain, they can point to a number on the pain rating scale. Or, if they are finding it hard to say something in words, they can write it out or draw pictures on the dry erase board.
"The goals are: 1) staff will use it to communicate with patients and residents and 2) residents will use it to initiate conversations with staff or other patients and family members," Pruden says. "The CommuniKit helps improve the quality of life of patients and residents. It also helps staff build rapport with their patients, which enhances the effectiveness of their services."
"When patients have difficulty speaking, we can still have a very rich conversation with them if we adjust how we're communicating with them. The CommuniKit supports us in using all modes of communication: gestures, facial expressions, intonation, pausing and waiting, listening, pointing, drawing, and speaking."
Using the kit allows residents to be more independent and to voice their thoughts, needs and concerns. As recreation therapist Jennifer Felitsyn explains, it also allows them to get involved with activities that they enjoy or to try something new.
"It allows us another avenue to get our message across while minimizing their frustration in trying to share something with us," she says.
"It allows them to actively participate in programs that they may not have been able to do otherwise or may have been too uncomfortable to participate in."
Some examples of how the kit is changing the lives of residents range from allowing a spouse to connect again with their husband or wife who is in long term care, to being able to reach a patient and find out their comfort level and mood or enabling a resident to participate in a game of Bingo.
Peter Szpital, 91 finds great joy in the CommuniKit, as it allows him to communicate with staff and family in another language.
"I enjoy telling staff each picture word in Ukrainian. I can teach them how to pronounce the word, and the meaning is shown by the picture," he says.
The eventual hope is that the kits will be used by everyone in each health care facility.
"The great thing about this kit is that if it's housed somewhere that is accessible, everyone can use it: Patients/residents, staff, volunteers, friends and families. It's portable too, so it can be used on day trips, during group activities, during home visits and at appointments with specialists." Felitsyn says.
The CommuniKit is available for free. For more information or to get a CommuniKit for your site, contact your local recreational therapist or email cynthia.pruden@albertahealthservices.ca.