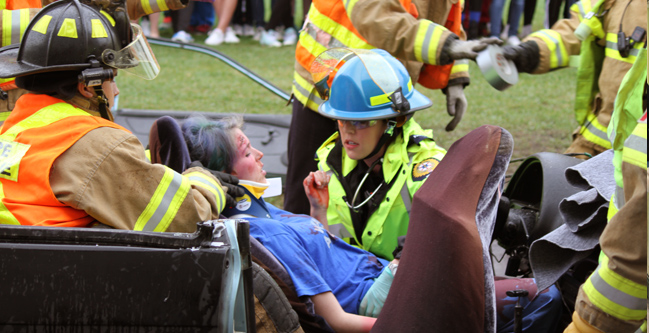 'I can see how quickly a life can change'
Story and photo by Shelly Willsey
The consequences of driving while high were made very real for more than 150 Edmonton junior high students who watched paramedics and firefighters extract an injured driver from a crashed car.
Alberta Health Services' Emergency Medical Services (EMS) recently staged a mock collision in the parking lot outside École St. Cecilia Junior High School. The mock collision simulated the injuries that can occur when a crash results from driving while under the influence of marijuana or alcohol.
"I can see how quickly a life can change because of one action," says 14-year-old Kevin Lin. "Why would you put your life at risk… and lives of those around you? It's so selfish."
Following the staged collision, EMS paramedics transported the patient into the school gymnasium where a mock emergency department trauma room was staffed by physicians and nurses.
"This is an opportunity for students to see the potential cost of driving while high and to understand that driving sober not only means driving free of alcohol but drugs as well," says paramedic Melissa Edwards.
The event was organized with AHS' P.A.R.T.Y. (Preventing Alcohol and Risk-related Trauma in Youth) Program.
"One huge concern is a conversation going on among teens suggesting that being the designated driver just means not drinking alcohol, but that smoking pot and then driving is OK," says P.A.R.T.Y. Program co-ordinator Marcia Lee, who's based at the Misericordia Hospital.
The P.A.R.T.Y. Program stages multimedia, reality-education events for Grade 9 students during which police, EMS, trauma nurses and injury survivors share stories about the real consequences of traumatic injury and about smart choices that prevent injury.
"Exposure to street drugs is more commonplace among teens than most people think," says Lee. "When asked if they believe marijuana is legal in Canada, a surprising percentage of Grade 9 students raise their hands."
Drivers under the influence of marijuana are six times more likely to have a fatal crash than an unimpaired driver. Driving, especially for new drivers, requires full and undivided attention.
"We feel it is important that students experience first-hand what could happen in a similar situation," says Joan Carr, Superintendent of Edmonton Catholic School District. "We hope by being proactive that students will make good decisions about the importance of driving sober."
Edwards says most teen drivers overestimate their driving abilities and underestimate the risks.
"They think, 'It can't happen to me,' " says Edwards. "If this scenario helped make the risks real for them, we've succeeded."
AHS-EMS, Edmonton Fire Rescue Service and the Edmonton Police Service all responded to the mock crash. This educational scenario was fully supported by the Edmonton Catholic School District.