Occupational therapist helps patient regain mobility
Story by Heather Marcoux; Photo by Paul Vieira
When James Fedyniak was admitted to the Daysland Health Centre's Orthopedic and Active Rehabilitation (DOAR) Unit, he wasn't very mobile or very hopeful.
And as his son and daughter-in-law wheeled him into his room, Fedyniak couldn't believe that occupational therapist Debbie McColgan expected him to start walking right away.
"I said, 'Lady, I haven't walked in three weeks. How can you expect me to walk?' But she did," Fedyniak says.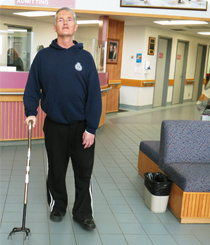 It had been almost a month since the 54-year-old fell in his assisted living apartment in Lamont. The therapy available to him at home wasn't sufficient for his needs, so Fedyniak was quick to say yes when offered a spot on the Daysland DOAR Unit.
"I wasn't even in the building for 15 minutes and she had me up and walking," Fedyniak says. "Right there I figured, this has got to be the place for me."
McColgan saw immediately how important independent mobility was to Fedyniak, and she wanted to prove to him that it was possible.
"After doing a quick physical assessment, noting his strength and balance, and confirming his mobility status prior to his fall, I chose an appropriate gait aid (quad cane) and said, 'Let's give this a try,'" says McColgan. "With stand-by assistance, James was successfully able to walk 40 metres."
This early success prompted Fedyniak to fully commit himself to therapy and different classes offered on the unit. The 10-bed interdisciplinary therapeutic environment helps people increase their independence after fractures, surgery or illness.
For Fedyniak, every step is a step toward recovery.
"It's a busy day, but I can handle it," he says. "I keep my energy up and keep moving. I just stroll up and down the hallway. I'll be able to walk with a cane when I go home."
After just over a week in Daysland, Fedyniak was ready to head home to Lamont, where he will continue his therapy and maybe even get back into his floor curling game.
For the former mechanic, having the appropriate care to regain his mobility was a miracle.
"Debbie is an angel. The whole experience has just been excellent," he says.
"That James credits me for assisting him in accomplishing his goals reaffirms that I made the right choice when I decided to pursue occupational therapy as a career," says McColgan.