Medicine Hat & District Hospital Auxiliary Association is celebrating its anniversary
Story by Kerri Robins; Photo courtesy of Medicine Hat & District Health Foundation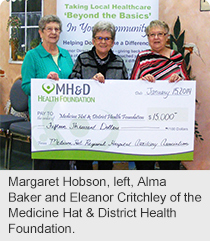 Formed in 1894, the Medicine Hat & District Hospital Auxiliary Association is celebrating its 120th anniversary. And it may well be said these ladies and their many counterpart auxiliaries throughout Alberta exemplify the belief that anything can be accomplished when one sets their mind to it.
"The auxiliary opens every meeting with a prayer," says Helen Young, member of the Medicine Hat & District Hospital Auxiliary Association since 1982. And part of that prayer echoes the fundamental goal of the auxiliary. "We pray thee our endeavours in these health care facilities in which we strive to bring comfort and hope to all who are in distress of mind and body," reads the book, A History of the Medicine Hat & District Hospital Auxiliary Association.
"We simply could not function without this wonderful group of ladies who work quietly behind the scenes making so many dreams come true for our health care," says Heather Bach, Executive Director for the Medicine Hat & District Health Foundation.
It was 120 years ago that four determined ladies from Medicine Hat decided that health care at their local health centre could use a hand in providing necessary services to the local population.
On Jan. 12, 1894: Clare Niblock, President; Margaretta Spencer, Vice President; Gertrude Noble, Secretary; and Grace Calder, Treasurer, founded what today boasts $1,032,749 in total funds raised for health care in Medicine Hat and surrounding area since its inception.
"We do what needs to be done — it's really no effort at all," says Young. "I like what I'm doing and it just feels right to assist where I can and help the hospital and patients. It's natural to help people who need it."
Not without their bumps along the road, these inspirational ladies work in many capacities for Medicine Hat Regional Hospital patients and staff to help provide the kind of health care Albertans deserve.
"Alberta's auxiliaries are phenomenal and we are so proud of our group and the projects they take on," says Bach.
The group's first big project was the building of the nurses' residence that opened in Medicine Hat in June 1905 — then fully funded through the fundraising efforts of the aid society, as it was called at the time.
In 1954, the group took part in the Provincial Convention of Women's Auxiliaries that looked at different ways to help raise money for local community health centres.
"A lot of different ways to raise funds came out of that convention, like hand-knitted baby items, volunteer hairdressers, volunteer mobile library carts for those who couldn't leave their room and mobile carts filled with snacks and sundry items for sale," says Young.
"Now we have our gift shop and lottery ticket pull outlet where all funds go to the hospital."
There are numerous auxiliaries around Alberta and the history of these organizations is inspirational. Yet, when one speaks to any of the members, it's clear they're passionate about their cause and absolutely enjoy volunteering their time and effort.
They're looking for neither kudos nor a pat on the back; each patient they help provides them with feelings of fulfilment and satisfaction.
While auxiliaries comprised mostly female members in the past, today's auxiliaries welcome both men and women.
The ongoing success of the Medicine Hat & District Hospital Auxiliary Association well into its second century proves the old adage that: "If it ain't broke — don't fix it!"
Please visit Foundations & Health Trusts for more information.