Treatments can lead to long-term side effects
Photo by Paul Rotzinger
After having a leg amputated, a portion of her lungs removed, and more than 18 months of chemotherapy, Samantha Andres might have thought her journey with cancer was finished.
But today, the 20-year-old, who has been 10 years cancer-free, faces some challenging long-term consequences as a result of those life-saving treatments.
"Because of my cancer and the treatments I received back then, I am at risk for a number of potential medical problems in the future, including weakness of my heart muscle leading to abnormal heart function, secondary cancers, kidney damage, infertility, hearing loss and osteoporosis," Andres says.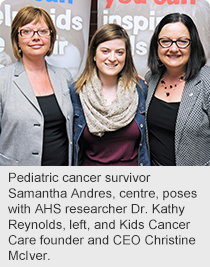 "I will need to continue medical followup and will require screening for these conditions for the rest of my life."
Researchers in Calgary and Edmonton recently launched a new study to learn more about the experiences of adult survivors such as Andres, who had cancer as children. They hope their findings will help inform and improve future care for adult survivors in the province.
"The increase in survival rates for children with cancer is one of the greatest success stories of modern medicine," says Dr. Kathy Reynolds, medical director of the Long-term Survivor Clinic at the Alberta Children's Hospital in Calgary, and a co-principal investigator in the study.
"But cancer treatments in these formative years often lead to complex, long-term side effects. Managing these health issues comes at a high price – socially, financially and physically – for the survivor, family and health care system."
Some of the long-term or 'late' effects of cancer treatment may include impaired growth and development; vision and hearing impairments; neurocognitive dysfunction (affecting learning, memory, judgment, reasoning and processing); compromised heart and lung function; stomach and intestine problems; bone and joint issues; mobility issues; obesity; infertility, and secondary cancers.
"Sixty per cent of childhood cancer survivors experience at least one chronic health condition related to the treatment they received," says Dr. Maria Spavor, medical director of the Kids with Cancer Society Survivor Program at the Stollery Children's Hospital in Edmonton, and a co-principal investigator in the study.
"Of the survivors who do experience long-term health issues, one-third will have a condition that is serious or life-threatening," she adds.
The research study is funded through the Kids Cancer Care Chair in Pediatric Oncology Research Fund, an endowed fund at the Alberta Children's Hospital Foundation.
Researchers are currently looking for adult survivors of childhood cancer to participate in the study and share their experiences. To learn more about the study or find out how to participate, visit the Kids Cancer Care website at kidscancercare.ab.ca    
Andres, who recently completed the third year of a nursing degree at Mount Royal College, is screened yearly for any potential health problems through the Long-term Survivor Clinic at the Alberta Children's Hospital.
"The appointments are a little nerve-racking, because in the back of my mind I am constantly thinking about the cancer coming back," she says. "But these appointments are also reassuring, knowing that there is someone who knows my cancer journey and knows what to look for."