Hospital initiative helps to calm, engage young patients
Story by Heather Kipling
Being at the hospital isn't much fun — especially for children. That's why the Smile Makers for Sick Kids program is helping to make the Rocky Mountain House Health Centre a more child-friendly place.
"In our day-to-day practice we can sometimes forget to slow down and provide child-specific and child-friendly care," says Shirley Hope, site manager at Rocky. "Through Smile Makers, we provide children with a small toy, stickers or a game, or we use brightly coloured bandages in the Laboratory to help them cope with being in the hospital."
Up and running since late 2013, program is in place in the Laboratory, Emergency Department and in Admitting. Staff members offer small items to children, such as soft toys to comfort those who are afraid, toys with moving parts to help distract busybodies, or focus toys, like puzzles or games, to help children relax while procedures are taking place.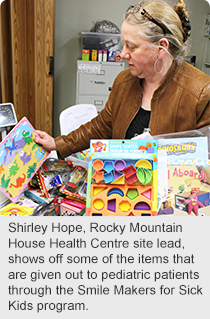 "They're little things but they can play a big role in making children, and their families, more comfortable and less afraid," Hope says.
The idea grew from feedback from a patient's family, who suggested the facility consider ways to be more child friendly.
Hope ran with the idea, which was quickly adopted by the Ladies Auxiliary, who ensure the Laboratory and Emergency Department are well stocked with stickers, whimsical Band-Aids and teddy bears. The David Thompson Health Trust also provides funds toys, games and activity booklets.
"The family who approached us initially organized a fundraiser in the community to support the idea, and the Trust oversees that donation fund," says Hope. "The Auxiliary has always provided teddy bears, but when we approached them with this idea, they were more than willing to help out."
Staff members find that offering small goodies to kids can help break the ice, making it easier when health care providers are assessing and treating pediatric injuries and illnesses.
"The program is very helpful," says Meggan Adrian, a laboratory assistant at the facility. "You can get the kids who are shy or nervous talking about the toys or stickers, which creates a connection. It's also a way for us to help children take their minds off being in the lab, and when they're calm and amused, it can help ease their parents' minds and help keep them calm as well."
The program also helps patients pass the time if they need to wait in the Emergency Department.
"A game or a colouring book or a toy truck can help keep children busy if there is a wait. It gives them, and their parents, something to do," says Hope. "We understand that waiting can be difficult and this is something we can offer to help make that easier for families with children."
About 5,000 pediatric visits are made to the Rocky ED annually.
To donate to the Smile Makers for Sick Kids program, contact the David Thompson Health Trust.