Study to determine what's normal and healthy
Story by Greg Harris; Photo by Paul Rotzinger
Calgary mother Michelle Graves didn't give it a second thought when she volunteered her baby girl, Avrie, to medical science shortly after she was born last April.
Avrie and more than 200 other healthy newborns at three hospitals in Calgary have been helping researchers establish some precise, baseline data on oxygen saturation levels and trends.
"I'm a high school biology teacher and I just thought it was really interesting and important to get involved," Graves says of the research study. "Hopefully, the data that's being collected can one day help other kids."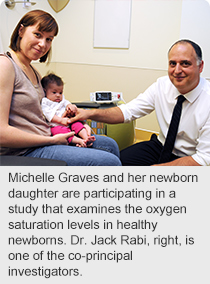 A baby's oxygen saturation tells doctors how much oxygen their hemoglobin is carrying. If the saturation is too low, it may indicate problems with the cardiovascular system.
"Healthy, full-term newborns don't generally have their oxygen saturation measured, so it's not well understood what sorts of fluctuations should be considered normal," says Dr. Jack Rabi, a neonatologist at Foothills Medical Centre and the co-principal investigator in the study.
"There is a growing trend globally toward screening healthy newborns for congenital heart disease by checking oxygen saturation, so having strong foundational data could help us better refine the diagnostic guidelines.
"If we don't know what's normal, it's hard to tell what's abnormal."
Babies whose oxygen saturation is too low are often sent for an echocardiogram, but Dr. Rabi says other research has shown only a small percentage of those followup tests actually reveal a congenital heart issue.
"One potential outcome of this research might be to provide us with better tools to interpret these oxygen saturation screening tests," Dr. Rabi says.
Dr Prakash Loganathan, a fellow in neonatal-perinatal medicine and the co-principal investigator in the study, says oxygen saturation can change minute to minute.
"In the study, we use a very safe, non-invasive test called pulse oximetry to check oxygen saturation," Dr. Loganathan says. "Newborns wear a special band around the wrist or foot for 90 minutes, and then after discharge are checked again for 15 minutes during a regular visit to see a public health nurse."
Dr. Rabi says collaboration with public health nurses is a unique strength of the study and allows researchers to observe babies at a time when their heart and lung physiology have had time to adapt after birth.
"The public health nurses have been incredibly supportive," he says.
Babies are followed for an additional eight weeks after their visit with the public health nurse to see if any health issues have occurred, as evidenced by a readmission or emergency department visit.
A site in Bogota, Colombia, is also gathering data for the study, which should provide researchers with some interesting insights on how elevation affects blood saturation levels. Bogota is roughly 2,625 metres above sea level, whereas Calgary is less than half of that at 1,048 metres above sea level.