Kaminski serves up flapjacks at South Health Campus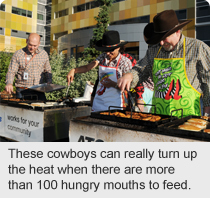 Alberta Health Services' new President and Chief Executive Officer Vickie Kaminski was at South Health Campus July 8, decked out in denim and a white cowboy hat, to flip pancakes and serve up grub at a Stampede breakfast.
About 100 people – including AHS staff and members of the public – attended the breakfast, chowed down on pancakes and had a chance to share a few words with the AHS President and CEO.
"Stampede breakfasts are a wonderful Calgary tradition and I'm honoured to be a part of it," said Kaminski.