AHS program gives Albertans tools to improve their health
Story by Tara Grindle
Paul Hemingson calls himself a "grumpy old man," although his witty sense of humour suggests otherwise. He's independent and proud of it.
So when his physiotherapist suggested Hemingson sign up for Better Choices, Better Health – an Alberta Health Services (AHS) workshop series designed to help people manage chronic disease – the 65-year-old Sundre resident was lukewarm to the idea even though he had been bedridden for months.
"I had lots of back pain but, unfortunately, that didn't lessen my appetite. Not being able to move, I gained weight, which worked against me. It put more stress on my body and it was even hard mentally," Hemingson says.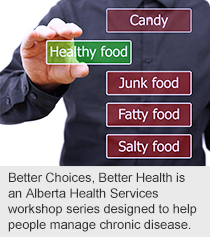 "I didn't want to sit in a room with a bunch of people complaining about their aches and pains. I thought I was a pretty smart guy. I thought I knew what to do but, as it turns out, I could still learn a thing or two."
Part of his recovery was seeing a physiotherapist and signing up for Better Choices, Better Health, a six-week series of workshops designed to support people with ongoing health conditions.
The workshop sessions provided him the information and guidance he needed to lead a healthier life.
"Healthy choices aren't always easy and sometimes it takes some education, like with nutrition," he says. "It was a real eye-opener to start paying attention to food labels. I always knew a can of tomato soup had lots of salt but I had no idea how much sugar was in it."
Better, Choices, Better Health is a provincewise program offered in 90 communities across Alberta. The workshop sessions are led by trained volunteers and AHS staff, many of whom live with a chronic disease.
"This approach really builds a welcoming environment for participants," says Judith Britten, Manager of Provincial Operations Support.
"The leaders are people who truly understand. They have to face the same challenges as the participants. It makes for a very supportive environment."
Because those living with chronic conditions are often faced with the same day-to-day challenges, Better Choices, Better Health focuses on teaching tools and techniques common to all chronic conditions rather than any one specific disease or condition.
Workshop topics include:
Solving problems and setting goals.
Handling pain and fatigue.
Managing medication.
Dealing with difficult emotions.
Healthy eating and increasing activity.
Communicating with health care providers.
Better Choices, Better Health is one of many services provided by the AHS' Alberta Healthy Living Program, which supports Albertans in managing chronic disease.
Hemingson says he would highly recommend Better Choices, Better Health to anyone with a chronic illness.
"The value for me is that now I hold the basic elements of the program in my mind and it influences my choices on a daily basis," he says. "That will have a lasting benefit."
For more information on Better Choices, Better Health, call Health Link Alberta toll-free at 1-866-408-5465.