Drs. Campbell, Frank international leaders in their fields
Story by Greg Harris
Two longtime clinician-researchers with Alberta Health Services were recently named to the Order of Canada for their achievements in bettering the health of Canadians.
Dr. Cy Frank, former AHS Vice President, Research Strategy, and now the CEO of Alberta Innovates – Health Solutions, was recognized for his contributions in advancing bone and joint research and orthopedic care for hip and knee replacements.
Dr. Norman Campbell, a general internist and currently president of the World Hypertension League, has spent decades helping bring hypertension under better control, both in Canada and internationally.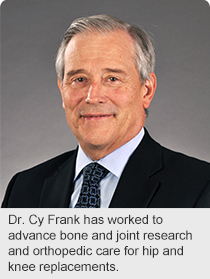 The two were among 86 new appointments to the Order of Canada announced earlier this summer. They will be recognized at a ceremony in Ottawa which is still to be scheduled.
Dr. Frank, an orthopedic surgeon who still performs knee surgeries in Calgary, says he was very honoured to get the news about his appointment to the Order.
"It's not something you ever expect," he says.
During the course of his career he says he's seen some remarkable achievements in musculoskeletal health, despite the area having a relatively small research force compared to areas such as cancer and cardiovascular health.
"Care has changed dramatically when it comes to bone and joint surgeries, for example. We've gone from lengthy stays in hospital, to largely outpatient treatments using minimally invasive therapies."
Significant gains have also been made in one of his main areas of research: osteoarthritis.
"I'm proud of helping develop a multi-disciplinary research group that has revealed some things that were not known about the causes of arthritis," he says.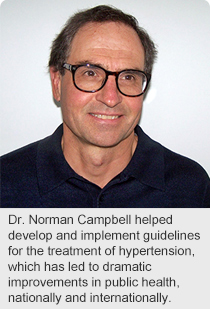 Health system redesign is the area where Dr. Frank has had perhaps the most significant impact, particularly in improving care for hip and knee replacements.
"We're still gaining some momentum there and having some impacts nationally," he says.
Dr. Campbell, who learned of the honour a couple of weeks before it was announced publicly, says he was "completely shocked" when he heard the news.
"The first thing I did was Google it up and make sure I wasn't getting scammed," he says. Then, a day before the announcement was made, and despite being sworn to secrecy, he discreetly shared the news with his 90-year-old mother.
Dr. Campbell points to the role he had, together with many other physicians, in helping develop and implement guidelines for the treatment of hypertension, which has led to dramatic improvements in public health – nationally and internationally.
Data from 1985-92, for example, show that the control of hypertension was just 13 per cent of the population, and about half that among people at highest risk, such as those with diabetes. Today, about two-thirds of the population now has hypertension under control, greatly reducing hospitalizations due to heart attack, stroke, and heart failure.
Dr. Campbell continues to share his knowledge with clinicians around the world, and to advocate for better labelling and regulation of foods containing sodium, a leading cause of hypertension.