Story by Kerri Robins; Photos courtesy of Dale Dusterhoft and Colleen Sekura
Helipad saving lives across the region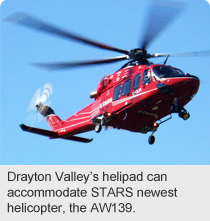 DRAYTON VALLEY — With the ability to accommodate STARS newest AW139 helicopter, the helipad here continues to lift spirits and safeguard community health.
"Our helipad affects the entire community and everyone living here knows someone who's had to use the STARS (Shock Trauma Air Rescue Society) air ambulance," says Colleen Sekura, Fund Development Officer with the Drayton Valley Health Services Foundation.
As a key part of the emergency services infrastructure, and one that can make the difference between life and death for central Albertans, the helipad served 33 STARS missions in 2012, out of a total of 1,943 missions provincewide.
The AW139 made its first landing here last Sept. 4. The new aircraft's cabin volume is 3.86 cubic metres larger than the smaller BK117. The AW139 can fly 850 km without refueling at a cruising speed of 275 km/h, compared to the BK117's 500-km range and speed of 225 km/h.
Celebrating its sixth year in service, the $417,000 helipad, which opened in November 2008, received $250,000 in funding from Drayton Valley Health Services Foundation thanks to a number of donations.
One of the donors, Dale Dusterhoft, suffered a fractured sternum in a horrific two-vehicle car accident in August 2008. Then 17, Dusterhoft was rushed to Drayton Valley where STARS airlifted him to the University of Alberta Hospital with severe chest pains and a low heart rate.
"The crew was really good to me, but I was so tired, I really just wanted to go to sleep," says Dusterhoft, 22. "I don't remember much of the flight but it seemed to be quick."
To give back, Dusterhoft took part in helipad fundraising through his local 4-H club, raising $12,072 through the sale of a charity steer at the 2008 annual achievement day.
Today, the helipad in Drayton Valley is achieving its potential as an essential hub in serving the region which includes Breton, Warburg, Evansburg and Lodgepole as well as other areas of significant oil and gas activity in central Alberta.
Michelle Koebernick, Chair of the Drayton Valley Health Services Foundation, says she's grateful for the support the helipad has received.
"We receive a lot of support both privately and from business in our community and the generosity goes a long way in caring for our patients and families," says Koebernick.
"It's people helping people — and we really see the circle of life when some community members end up taking advantage of the services or equipment they helped purchase."
For more information, please visit the Drayton Valley Health Services Foundation.