More procedures done in 10 days than normally done in a month
Story by Sharman Hnatiuk; photo by Mathew Martin
Rick Galloway has a long road of recovery ahead of him, but the 54-year-old farmer from Saskatchewan is breathing a little easier after receiving a double-lung transplant at the end of July.
Galloway was one of 32 patients who received an organ transplant between July 18 and 27, when Edmonton surgeons broke Alberta's transplant record, performing more transplants in a 10-day period than they normally do in a month.
A team of six organ transplant surgeons – three thoracic (lungs/heart) surgeons, one kidney surgeon, and two hepatobiliary (liver, pancreas, and islet) surgeons – performed three lung, four heart, eight liver, five islet, one whole pancreas, one kidney/pancreas and 10 kidney transplants.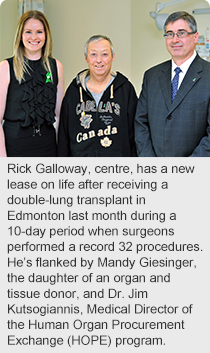 "I collapsed in May and the doctors told me I wouldn't survive the week on my own, so they surgically implanted a device to help ventilate my lungs," says Galloway, who had been waiting for a lung transplant since February.
Diagnosed with pulmonary veno-occlusive disease – a rare disease characterized by the narrowing of the pulmonary veins – Galloway had spent over 50 days in the cardiovascular intensive care unit (ICU) at the Mazankowski Alberta Heart Institute in critical condition waiting for a suitable donor.
"I am forever grateful to my donor and their family," Galloway says. "I am so thankful to my care team. They kept me alive until an organ became available."
Dr. Jim Kutsogiannis, Medical Director of the Human Organ Procurement Exchange (HOPE) program, says the transplant record is a remarkable achievement that involves many partners.
"These transplants were made possible through the collaborative efforts of our regional ICU staff, HOPE and Comprehensive Tissue Centre (CTC) co-ordinators, operating room staff, and transplant surgeons," he says.
When a suitable donor becomes available, staff, physicians and surgeons work quickly to match organs to recipients, schedule operating rooms, and find specialized post-operative beds. Surgical teams must be ready to perform transplants on short notice.
Alberta currently has one of the lowest organ and tissue donor rates in the country. In April, the Alberta government launched an online organ and tissue donation registry, giving Albertans a way to record their wishes to donate organs and/or tissues after death. Albertans can also document their desire to donate organs and/or tissues at their local registry agent when they go to renew their driver's licence or other identification.
Since then, more than 27,000 Albertans have legally registered to affirm their wishes to donate their organs and/or tissues.
"Having directions about what a loved one would like to see done in the event of their death can help with the grieving process," says Dr. Kutsogiannis.
"I would encourage all Albertans and their families to discuss the gift of organ and tissue donation and to register their wishes to donate organs and tissues online or in person at Alberta registry agents."
One deceased organ donor could provide a life-saving treatment for seven people by donating lungs, heart, liver, two kidneys, pancreas and small bowel, as well as enhance up to 80 lives by donating corneas, sclera, heart valves, skin, bone, tendons or amniotic tissue.
The University Hospital Foundation has supported the transplant program since the program first pioneered transplants at the University of Alberta Hospital in 1967. Community donors have given more than $5 million to advance transplant patient care and research.