Maternal infant monitor improves Drumheller care
Story by Kerri Robins; photo by Nancy Guntrip
A maternal infant monitor on the labour and delivery unit at the Drumheller Health Centre is helping medical staff keep an eye on the health of moms and their babies during birth.
The maternal infant monitor is a sensor belt placed around mom's belly while she's in labour.
"The belt picks up the baby's heart rate and the strength of the contractions," says Nancy Guntrip, Site Manager of the Drumheller Health Centre. "It also has telemetry monitoring ability, meaning it's wireless, so it allows mom to walk around during labour, while allowing us to continue viewing the readings onscreen — and it's nice to give mom this option, especially during a longer labour."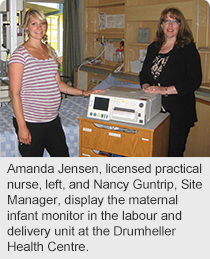 The monitor costs nearly $30,000 and, thanks to fundraising and donations to the Drumheller Area Health Foundation, two new machines are on order. Joining a pair already at the health centre, the new monitors will be a welcome addition at the health care facility.
"We have three labour and delivery rooms but only two monitors," says Guntrip. "We're certainly excited to be getting two more, so each room will now have its own monitor and we'll have a fourth for backup."
Measuring vital signs is beneficial for mom and baby so staff can better judge how both are doing.
"It's really nice for moms having the monitoring equipment because it lessens some of the stress and strain of birth by knowing their baby is doing fine," explains Guntrip.
"It certainly helps our staff as well because we can see right away how both mom and baby are doing and take immediate action if difficulties become apparent."
The monitor is also beneficial because it can monitor two heartbeats at once – obviously valuable during multiple births.
Boris Nahornick, Chair of the Drumheller Area Health Foundation, is happy the newest residents in the region are receiving such vital care.
"Our community is wonderful in getting behind different causes and puts in a lot of time and effort to help us bring worthwhile and meaningful health care to our community and patients," says Nahornick.
For more information, visit www.drumhellerhealthfoundation.com