Mom's blood analysed to detect chromosomal disorders
Story and photo by Greg Harris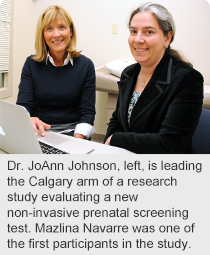 CALGARY — Pregnant at 38 with her second child, Mazlina Navarre would rather not think about the possibility of undergoing an amniocentesis.
"Once you've seen an ultrasound of your baby, it's very difficult to have to consider a procedure like that," she says.
In amniocentesis, a doctor draws fluid from the amniotic sac surrounding the unborn baby in order to assess for potential chromosomal disorders in the developing fetus. Although it is safe and well-established, it is associated with a 0.5 to one per cent risk of miscarriage.
Now, researchers in Calgary are evaluating a new, less-invasive prenatal screening test that assesses fetal DNA in the mother's blood to check for chromosomal disorders.
It's the first time the test, known as non-invasive prenatal testing (NIPT), is being evaluated on a large scale in Canada.
The main benefit of NIPT is that it could substantially reduce the need for invasive tests such as amniocentesis.
Each year about 10,000 Canadian women undergo an amniocentesis as part of prenatal screening, with about 70 of those pregnancies being lost as a result of complications from the procedure.
Researchers estimate NIPT screening — which studies have shown to be about 99 per cent accurate — could reduce the number of amniocentesis procedures in Canada to about 300 per year.
NIPT is available through some U.S. companies on a patient-pay basis.
"While these companies have shown NIPT to be highly accurate, it has never been validated on a large scale outside of industry, nor has its role in the Canadian public health system been assessed," says Dr. JoAnn Johnson, an Alberta Health Services obstetrician, University of Calgary professor of obstetrics and gynecology, and the principal investigator in the Calgary arm of the study.
"This is a complex technology. We hope that Canadian data will help inform decision-making about how NIPT might be introduced here," says Dr. Johnson, who is also a member of the Alberta Children's Hospital Research Institute.
Calgary is one of five sites across the country involved in PEGASUS (Personalized Genomics for prenatal Aneuploidy Screening Using maternal blood), a $10-million study funded by Genome Canada headed by Drs. Francois Rousseau (Laval University) and Sylvie Langlois (University of British Columbia). The purpose of the study is both to develop NIPT technology in Canada and to determine the best way to integrate it into the Canadian health care setting.
Researchers plan to recruit around 5,000 women, 900 of them from Calgary. The study here is being delivered through the collaboration of AHS, the University of Calgary, EFW Radiology and Calgary Laboratory Services.
Navarre, who because of her age is at slightly higher risk of having a baby with a chromosomal condition, says she didn't hesitate to participate when she learned about the study.
"When you're pregnant, you always want to know that everything is going well for the baby, so for us having the reassurance of the test results was very important. It alleviated a lot of anxiety."
Women interested in participating in the research should phone 403-943-8382. The costs of the new screening test are covered by the study.