Cycling during treatment improves overall health: study
Story by Greg Harris; Video/Photo by Paul Rotzinger
Back in the day, Jakob Vandenbrink used to stay active through a variety of activities, including swimming, speedskating, golf, track and field, soccer and water polo, to name just a few.
"You name it and I did it; I was fortunate to have been born with some athletic ability," says the 84-year-old Calgarian.
Any hope of continuing some of those activities into his later years ended in 2001 when he lost his eyesight to macular degeneration.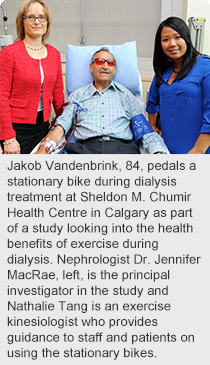 But today, Vandenbrink still has an outlet for his athletic inclinations, thanks to one of the largest renal exercise programs in the country. Three times a week, Vandenbrink goes for a two-hour bike ride while undergoing dialysis at the Sheldon M. Chumir Health Centre.
New research shows patients who exercise while undergoing dialysis significantly improve leg strength and avoid some of the declines in health that other patients can experience
"Improving leg strength may not sound that important, but it promotes mobility, helps maintain independence, and substantially decreases the risk of falls, which can be devastating for this patient population," says Dr. Jennifer MacRae, an Alberta Health Services nephrologist and principal investigator in the study.
"The research also shows those who cycle while dialyzing maintain their overall health. This, too, is significant since other studies have shown a more steady decline in health over time in those renal patients who do not exercise."
Dialysis is the process of cleansing the blood of toxins and excess fluid when normal kidney function is reduced. A patient's blood is filtered through a dialyzer and then returned to the body. Patients undergo dialysis in hospitals or community facilities three times a week, with each typical session lasting about four hours.
Previous research has shown that exercise during hemodialysis helps clean the blood more effectively and leads to improvements in blood pressure control and cardiac function.
Early research from the Calgary group also suggests there may be a reduction in hospitalizations among those who participate in the exercise program.
The Southern Alberta Renal Program has close to 230 patients cycling weekly at nine different sites. Specialized stationary bicycles that can be used while patients are semi-reclined in dialysis chairs are available at six sites in Calgary, as well as in Drumheller, Olds and Lethbridge.
The program was piloted in Lethbridge in 2005 then came to Calgary shortly after. Two exercise kinesiologists travel between the urban and rural sites and provide guidance to staff and patients on using the stationary bikes.
"Patients at the community hemodialysis sites (the units not attached to a hospital) tend to have fewer health issues and so participation rates are much higher in those facilities," says Nathalie Tang, one of the exercise kinesiologists.
Vandenbrink raises money each year for the Kidney Foundation's Kidney March and this year he was among the top five fundraisers with more than $13,000 pledged. His goal was to cycle 800 kilometres between June and September; he wound up cycling 840 kilometres.
"I find it really helps pass the time," he says of his cycling routine. "Most people start with 30 minutes and advance from there if possible, but I'll go for two hours if I feel up to it. I feel like I've accomplished something rather than just sitting here."