Fort McMurray addiction specialist offers specialized training to local residents
Story by Lisa Peters
Do you know the signs and symptoms of depression? Do you know what to do if a person is suicidal or harming themselves? Are you armed with self-help strategies?
These are some questions to ask yourself during Mental Illness Awareness Week, held this year from October 5- 11. Mental Health Awareness Week is also a great time for you to reach out and get the support and answers you need.
With thanks to a partnership between Alberta Health Services (AHS) Addiction and Mental Health and a non-profit organization called Some Other Solutions, which is dedicated to providing crisis services in Fort McMurray and area, northeastern residents have access to a Mental Health First Aid (MHFA) course.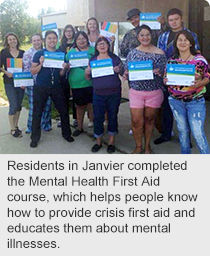 The Mental Health Commission of Canada describes MHFA as the help provided to a person developing a mental health problem or experiencing a mental health crisis. Just as physical first aid is administered to an injured person before medical treatment can be obtained, MHFA is given until appropriate treatment is found or until the crisis is resolved.
Tammy O'Quinn, AHS Addiction & Mental Wellness Promotions Facilitator, and Alie Warnes, Operations Director at Some Other Solutions, are both based in Fort McMurray and certified Mental Health First Aid instructors.
"This course helps people know how to provide crisis first aid and educates them about mental illnesses," says O'Quinn. "It's a privilege to share it. The more awareness raised and the more knowledge that can be shared about mental health is better for everyone."
O'Quinn says the most recent course they lead was in Janvier.
"We're so proud of the community for taking this on and for all members who attended the course," says O'Quinn. "Mental Health First Aid is beneficial for everyone, because mental health problems are very common and professional help is not always on hand in time of a crisis or sought out by those in need."
In Janvier, the course was held at the Chipewyan Prairie First Nation Health Centre and 10 people attended.
Laura Emerson, local resident, was one of them.
"It's a very good course," says Emerson. "I wanted more information about certain issues, such as anxiety, and how to deal with them. I now have a better understand about why some things happen and what I can do to help others. It was very helpful."
The course is a two-day program and is open to anyone who is interested in it. In Janvier, there was a wide variety of people who took the course, ranging from youth workers, to parents and health care professionals.
"Anyone and everyone can benefit from Mental Health First Aid," says O'Quinn. "The course is very educational and has a long-lasting impact on those who take it."
The course addresses issues including, but not limited to, stigma, mood disorders such as depression and bipolar disorder, drug addiction, suicide, anxiety, schizophrenia, deliberate self-injury and eating disorders. It also promotes self-care and how a person can protect themselves in a crisis situation.
"It was very informative," says Emerson. "Tammy and Alie really involved the entire class and it was really hands on."
The next course will be offered locally in the fall.
For more information about MHFA call Tammy O'Quinn with AHS at 780-791-6205 or Alie Warnes with Some Other Solutions 780-743-8605