Story and Photo by Adrienne Tait, Edson Weekly Anchor
Braden Mole is an amazing success story.
At the age of eight Braden had his first surgery and soon after decided he wanted to do what he could to help others. What started as a bottle and penny drive that earned $400 eventually turned into a million dollar philanthropic dream.
At fourteen years old Braden held his first barbecue and auction fundraiser and has been working towards achieving his million campaign ever since.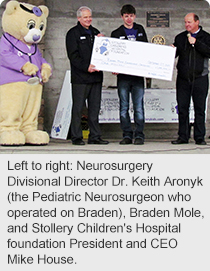 On September 27 with a cheque from the Webb family that helped put him over that $1 million goal Braden celebrated his success at Centennial Park.
"I was eight years of age when I underwent my first brain surgery. At the time as a patient the best way for me to cope with the situation I was in was to just focus on the many sick and injured children, kids my age and younger, who have had to overcome challenges beyond what we could ever imagine. Their strength and determination is what fueled my passion for this cause," said Braden during his speech.
The celebration also included speeches from Mike House, President and CEO of the Stollery Children's Hospital Foundation, as well as Braden's surgeon.
House shared what he believes makes Braden so inspirational. "It's the fact that when he is talking to somebody about the Stollery he's not talking about his story per se he's talking about the impact that donors can make and the difference in children and their families lives. And he uses his story to relate that. But he also inspires us to see how we can make a difference."
Braden thanked his supporters including his family and everyone who donated to his cause and said it was "thanks to the undying passion, commitment, support, and generosity of this amazing community" that he achieved his million dollar goal.
Braden now works as a junior community initiatives coordinator at the Stollery and has enrolled in Grant McEwan's management studies program. He shared what he sees as the secret to success saying "set your goals high but take it one small baby step at a time."
-30-
The Webb family's $25,000 donation, which was presented to Braden Mole and Mike House CEO of the Stollery Children's Hospital Foundation, helped Braden to reach the million dollar mark.
Braden Mole celebrated raising $1 million for the Stollery Children's Hospital Foundation with family, friends, community supporters and hospital dignitaries last Sept. 27.