AHS, U of C share process-improvement skills with med students
Gregory Kennedy; Photos Courtesy Steve Peirce
Tanzanians are getting the tools to improve their health care thanks to collaboration between Alberta Health Services (AHS) and the University of Calgary's Cumming School of Medicine.
The partnership is supporting the new masters of public health program at the Catholic University of Health and Allied Sciences (CUHAS) in Mwanza.
"This opportunity is totally exciting on a bunch of different levels," says Steve Peirce, Director, Process Improvement South for AHS in Calgary, who's in Africa until Oct. 9 to share his expertise at bringing about positive change with CUHAS students.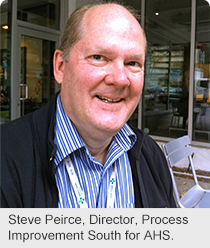 "I don't know what their challenges will be. We're coming from one of the wealthiest health systems in the world to try to do some work in one of the poorest. How are we going to transfer what we know in a way that helps them?
"The whole thing is to try to get them some skills to help them make their health care processes function better — to eliminate delays, to eliminate wasted costs. It's really about how to best operationalize the clinical work they do."
The model being taught is the Alberta Health Services Improvement Way (AIW) — an organization-wide approach for solving problems, making improvements and managing change. AHS created AIW as a way to provide a consistent and effective framework as well as a shared language for change and improvement efforts across the province.
"Our partnership with Alberta Health Services is at the core of our ability to deliver on our educational mandate," says Jennifer Hatfield, Associate Dean of Global Health and International Partnerships for the University of Calgary (U of C).
"I'm thrilled that this is one of our first bridges to Alberta Health Services; to enable the people of AHS to share their programs and their skills globally. Our partners in Tanzania see this opportunity as one that will enjoy a very long life. We're going to build their capacity in Tanzania over the next few years to deliver their health care programs. We have a fantastic team going over to do this."
Joining Peirce in the classroom on the CUHAS initiative are: Dr. Silvina Mema, an AHS resident in public health and preventive medicine; and Kenna Kelly-Turner, program co-ordinator for the public health and preventive medicine resident training program at the U of C.
A rapidly growing city of about a million people, Mwanza — Tanzania's second-largest centre after Dar es Salaam — lies on the southern shore of Lake Victoria, a few hours drive from the Serengeti National Park wildlife sanctuary to the east.
Sharing techniques derived from Lean and the Six Sigma system, the levels of expertise in AIW are described much like the martial arts. The trio of Alberta educators are giving "green belt" training to 15 masters students, drawn from public health administrators, physicians and nurses.
"Green belt training is a more intensive, higher-skill level training on how to do process-improvement projects, as well as facilitate rapid-improvement event workshops with various teams," says Peirce, a Six Sigma black belt.
But how can an organization tell if change is even needed?
"We start by asking them: What are your 'pain points?' " says Peirce. " 'What about your system do you feel is causing you some pain?' In Alberta, for example, a lot of it is effective and efficient patient flow and applicable wait times.
"We don't know what will be the biggest 'pain point' in Africa. Is it about supplies? Is it resources? Connecting to certain specialties? What are the barriers to doing their work? How can we use our quality improvement process tools to knock those barriers down?
"This is very new thinking in Africa, from what I understand. I anticipate it's going to be a discovery; they may not realize they have these 'pain points' until we have the discussion about what they can do. And through our partnership with CUHAS, we expect to learn a lot from them, as well."
Many Alberta doctors already dedicate vacation time to help at clinics around the world, says Hatfield, while AHS donates out-of-service equipment and material to countries that have few resources of their own.
"What matters to me is that we create the next generation of global citizens who really see that their advocacy and social accountability are realized through these wonderful outreach programs," she says. "And they learn so much and bring these lessons back, as well, which is really important.
"I just want to thank Alberta Health Services and the University of Calgary for allowing Steve and Kelly to go. These are two experts in their field. The fact that AHS is supporting their ambition to serve on a broader scale, on a broader stage — I just really want to thank Alberta Health Services for having that vision."
All about AIW
Alberta Health Services Improvement Way (AIW) is the standard approach to process improvement within AHS.
It was developed about five years ago, in part, to help bring the various zones together by speaking one common language and having one common set of tools for how AHS goes about process improvement.
AHS employs 28 members on its process-improvement team provincially, plus another 100 colleagues who work in clinical quality improvement groups at the zone level.
"One hundred thirty people can't move this big AHS ship of 120,000-plus," says Peirce, "so our big mandate is to spread the skills, the knowledge and the understanding through AIW so our people can do their own improvements in a structured sort of way."
More than 9,000 AHS employees, physicians and partners have taken the introductory AIW training course to date.
Its techniques and tools are based on Lean, the Six Sigma system, and others.
What is Six Sigma?
Six Sigma is a set of techniques and tools for process improvement. It was developed by Motorola staff in 1986. Today, it is used in many industrial sectors.
Six Sigma seeks to improve the quality of process outputs by identifying and removing the causes of defects (errors) and minimizing variability in manufacturing and business processes.
It uses a set of quality management methods, including statistical methods, and creates a special infrastructure of people within the organization using designations similar to the martial arts (champions, black belts, green belts, yellow belts, etc.) who are experts in these methods.
Each Six Sigma project carried out within an organization follows a defined sequence of steps and has quantified value targets, for example: reduce process cycle time, reduce pollution, reduce costs, increase customer satisfaction, and increase profits.
What is Lean?
Lean, which is based on the Toyota Production System, is really about systematically identifying and then eliminating waste. Every process has inherent waste in it like waiting, transportation, defects, etc. and the Lean methodology uses various techniques to first define the waste in a process and then minimize it (workplace organization, pull scheduling, change-over reduction, etc.).
The AHS Improvement Way (AIW) takes some of the jargon out of the Lean and Six Sigma language to create a common, shared language for improvement work, so that it is easily understood by everyone in AHS.