A home away from home
Story by Kirsten Goruk
It's been two years of smiles, companionship, activities and fun for the clients of Fort McMurray's Adult Day Program.
The program recently celebrated the milestone with staff, clients and family gathered together for some snacks, music, door prizes, games and speeches.
"It was just really lovely. We had an afternoon tea and everyone who came really enjoyed it," says Denise Wilkinson, Alberta Health Services (AHS) Seniors Health Manager for Area 10.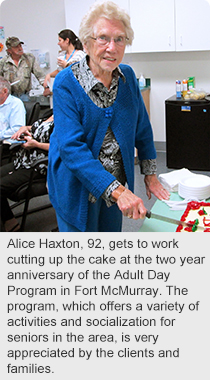 The program currently runs five days a week out of the Wood Buffalo YMC, but it will eventually move to the new continuing care centre. Attendance is capped at 10 people each day, but staff hope to expand once they're working out of the new space.
Susan White, a licensed practical nurse with AHS "opened the doors" of the program when it began. She says seeing how much the program has grown since then and witnessing its impact is an amazing feeling.
"This is a well needed program and interacting with the clients who come here, seeing how much they need it, it's overwhelming," White says.
"They get the opportunity to socialize, meet new people. It's kind of like a second family here. We have a lot of clients who are regulars and they tell me that they'd sleep there if they could."
Participants in the program attend a few days a week, depending on scheduling, and take part in arts and crafts, reading and music activities, pet therapy as well as exercises. Each client experiences something different.
"Our recreational therapist for the program designs activities based on the needs and cognitive abilities of the members," Wilkinson says.
Clients must be 50 years or older, but there are exceptions. The program utilizes multidisciplinary team members which include nurses, occupational and recreational therapists, physiotherapists and personal care attendants.
Verlyn Crick's mother, Muriel, 93, attends the program five days a week and Crick says the whole family is grateful for its existence.
"We should have had this service a long time ago. It's a great program that fill's up Mum's days and gives her something to do. She loves coming especially because she gets so spoiled. The program keeps people in their homes and provides daily respite for families," Crick says.
The benefits of the Adult Day Program are clear, adds Wilkinson, as it makes a difference in the lives of seniors.
"It enables people to stay out of long term care and keep them in their homes. It's all about aging in place. They get some social interaction and it prevents isolation among seniors," Wilkinson says.
Seniors or families interested in learning more about the program can talk to their home care nurse or family physician.