Movember arrives to raise awareness of prostate cancer
Story by Kristin Bernhard
The arrival of November brings the arrival of Movember, an annual event to raise awareness of prostate cancer, the leading form of cancer diagnosed in Canadian men.
By encouraging men to grow moustaches during the month, Movember aims to increase awareness of and funds for early cancer detection, diagnosis and effective treatments, and to ultimately reduce the number of preventable deaths.
One in seven men will develop prostate cancer in his lifetime, and it is responsible for one in 10 cancer deaths in men.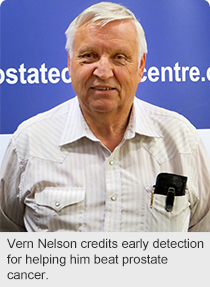 But with early detection, there is hope – something Albertan Vern Nelson, 69, knows all about.
"When I was diagnosed, I was quite surprised," says Nelson. "But I was lucky and it was caught early, so I figured I would have a good chance of conquering it."
Cancer-free for more than three years, Nelson believes early detection saved his life.
"I proactively got checked for prostate cancer," says Nelson. "(It's) something I encourage all men to do to this Movember."
Screening for prostate cancer is done with a simple blood test, called a prostate-specific antigen (PSA) test.
Nelson is not only grateful to the medical staff who helped him beat the disease, he is also grateful to the other prostate cancer survivors who guided him through his journey.
"I met a lot of people who have survived cancer and who have been through it, too," says Nelson. "They give you the information and personal perspectives about what options are available – you get the full picture from the volunteers at the Prostate Cancer Centre."
The Prostate Cancer Centre in Calgary offers six Rapid Access Clinics that provide men quick access to consultation, diagnosis, information on treatment options, a comprehensive sexual and urinary function clinic, after-care, and wellness seminars.
The centre also offers a patient resource centre staffed with volunteers who have personal experience with the disease.
"It is great having the urologists in the same building as the resource centre," says Nelson. "You are able to get the medical facts and information from the urologist and then come straight over to the centre and get further information and talk with other men who have been through the cancer you have just been diagnosed with.
"The sessions helped me to make the decision on what option for treatment I wanted to go with. I was able to make an informed decision."
Nelson now provides similar insights for new patients who may be considering robotic prostate cancer surgery, the option he chose.
"There is also a list of wives whose husbands have had prostate cancer," says Nelson. "It lets the wives of new patients ask all the questions they may have about how they can support their husbands through treatments, or what side effects they can expect both physical and emotional."
The volunteers at the centre are asked to return at least once a year for an education session to ensure they have the most up-to-date information.
Keith Hill, 74, has been volunteering weekly for the past 15 years.
"There is that community feel about the whole place," says Hill. "You feel that you are part of a team. I enjoy coming here and keeping up-to-date with what is going on and to see the people here.
"Often a man will get diagnosed and he thinks, 'Oh my goodness, now what?' The urologist often recommends the patient come here to the centre to talk with us one-on-one and the nicest thing we hear is when the patient leaves the centre and he says, 'Oh, I feel a lot better now.' That's what it's all about."