High-tech video system helps patients in Two Hills
Story by Heather Marcoux; photo by Diane Swedgan
The clients on the Stroke and Geriatric Empowerment Unit at the Two Hills Health Centre call it the big computer, but the ReTouch rehabilitation system is so much more than that. This therapeutic screen system is helping patients regain mobility and strength while they have some high tech fun.
This therapeutic screen system is helping patients regain mobility and strength while they have some high-tech fun.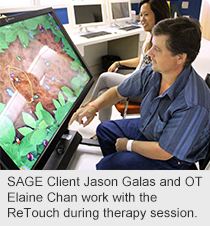 "Depending on what game you're playing you might have to use both arms to go faster," explains Jason Galas, who uses the system as part of his upper body strengthening regime. "The computer games are good, but it does take some time to get used to it."
Before having a stroke this past July, most of Galas' video game experience was from a spectator's perspective.
"My kids used to play, and I'd sit and watch them," says the 39-year-old father of two. Now, Galas is spending 15 minutes each day playing special video games to promote mobility in both arms and regain strength while concentrating on achievable goals, like making a virtual burger.
"Patients have truly enjoyed the ReTouch," says Alberta Health Services occupational therapist Elaine Chan. "It's a fun and engaging way to complete both upper extremity rehab and cognitive rehab."
The SAGE Unit is just the second rehabilitation unit in Alberta to use the ReTouch system. Chan was instrumental in bringing it the Two Hills Health Centre after seeing Alberta's first ReTouch at the Glenrose Rehabilitation Hospital in Edmonton.
She witnessed how the touchscreen's specialized gaming software helps stroke, brain injury and surgical patients regain strength and reactive skills through motor therapy. The ReTouch is able to track patients progress, and make the games more difficult as the users regain coordination.
The system came with a $13,000 price tag, money that was raised during the annual Two Hills Walk and Run. Chan is thankful for the community support that allowed her into introduce the ReTouch system to SAGE Unit patients in May 2014.
"They say they find it less like therapy. They find themselves looking forward to their ReTouch sessions."
The interactive system comes loaded with a variety of games. Single-player options include puzzles, reaction games and matching games. Two-player games like air hockey and curling invite more patients into the action. 
"It can also be a tool to encourage group participation," says Chan. "Patients have a fun way to bond with each other while still completing their upper extremity rehab."
The goal of SAGE staff is to help patients get back to the activities they were completing before the medical change that brought them to the unit. The ReTouch is helping them do that, with the added benefit of being lots of fun.