Rehabilitation service offers patients support through recovery
Story and photo by Heather Kipling
Looking back on his journey, Martin will tell you that his world was a dark place a few short years ago.
Physically ill, suffering from years of drug abuse, and living with persistent mental illness, the central Alberta man knew he was spiraling into trouble. Unless he was able to drastically turn his life around, Martin – who wants to remain anonymous – says he felt a bad ending was coming.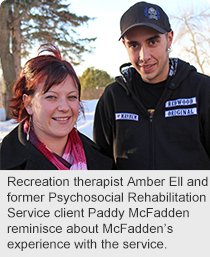 "I was going to be in jail, or dead if I didn't make changes. It was life or death for me."
Determined to retake control of his life, Martin was referred to the Centennial Centre for Mental Health and Brain Injury (CCMHBI) in Ponoka where a team of Alberta Health Services health care providers operate the Psychosocial Rehabilitation Service (PSR). The PSR program is an adult inpatient program that offers patients with severe or persistent mental illness a patient centred service to support recovery.
Martin was among the first patients to complete the program.
"I wouldn't be here if it weren't for the program – absolutely not," says Martin, emphatically. "It helped me take the tiger by the tail. Staff were so supportive of me and they worked with me every step of the way to help me overcome physical, mental and emotional challenges to get my life regrouped.
"I didn't want to recognize that I had a mental health issue and I didn't want to admit I was doing things wrong, but I didn't want to die. This program gave me everything I needed to get turned around."
Psychosocial rehabilitation is designed to promote personal recovery, skill development, reintegration into the community and an improved quality of life for patients with mental illness. Such illnesses, like depression, dependence disorders, schizophrenia, bipolar disorder and posttraumatic stress disorder, are often characterized by complex symptoms that require ongoing treatment and management.
Established in 2007, the PSR program is provided as an intensive rehabilitation service to 16 beds with support to an additional 41 patients with complex care needs at the CCMHBI. Patients are primarily referred from the acute psychiatric units, as well as the Concurrent Disorders Enhanced Service. However, community referrals are also accepted, with stays ranging from an average of 84 days up to as long as two years – or more as needed. Patients must meet the admission criteria for the program to be considered.
"First and foremost, patients must be willing to come to the program, and they must have identified recovery goals," says Kelly Smith, Psychosocial Rehabilitation Unit Manager at CCMHBI. "Once a patient is admitted, the team engages them in goal identification, to support their recovery."
The team consists of a psychiatrist, a physician, nursing staff, recreational and occupational therapists and assistants, a psychologist and intern students, social workers, as well as unit and support staff.
"Everyone recovers differently and has different goals in mind," says Smith. "For some patients, their rehabilitation involves vocational re-training and helping them get back in the workforce. For others, it might be more geared toward helping them develop functional skills such as budgeting, cooking, cleaning, or personal development in the areas of coping and stress management.
"We also help connect them with community resources and provide group sessions they can attend after discharge to keep developing skills and making connections. It's all about how we can help them improve their lives."
Patients meet with staff a minimum of twice a week, and attend a variety of group sessions.
"It's a wide spectrum of people that we see so we try to offer a variety of programs and group sessions for patients to take part in," says recreation therapist Amber Ell. "They supplement the important one-on-one work that takes place." Sessions are also available to patients following discharge.
"When we have past patients come backfor additional sessions, or to speak to other patients, it's very encouraging to see how far they've come and how they're doing," says Ell. "It can make a world of difference when patients can hear from someone who has been through the program before."
One such former patient who continues to return and share his story is Paddy McFadden. Like Martin, McFadden says his future looks very different today from the one he saw prior to taking part in the program.
"I was sick of living in the hospital; I wanted to get back into the real world," he says. "I didn't want to have to take a handful of pills each day; I wanted to live a full and productive life."
Now working and taking classes at Red Deer College, McFadden looks back at what he has overcome and uses his experience to encourage others.
"You can feel helpless and like you've hit rock bottom, but there is a light at the end of the tunnel; it can always get better.
"Going through this program made me realize what I can get through and has given me confidence to face challenges that come my way," he says. "If by going back and talking to others I can make a difference for someone else, that's what I want to do."