Program promotes independence
Story by Lisa Peters
Athabasca and area residents receiving mental health services are benefiting from the Alberta Health Services (AHS) Athabasca Adult Day Program.
The AHS Athabasca Adult Day Program is a social group that has been running in the community for over 15 years. Lead by AHS Mental Health Support Worker Rachel Troughear, the group provides supervised recreational and social activities participants may not have the opportunity to experience otherwise.
Ian Kirk, 38, is a local resident and program participant who was diagnosed with schizophrenia at the age of 18.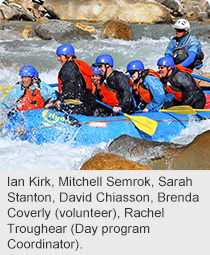 "I was working with my Dad on the farm and not really getting out much when a therapist referred me to the group," says Kirk.
He has now been a member of the Athabasca Adult Day Program for about eight years.
"This group gives me something to look forward to each week," Kirk says. "We get out and do a lot of things - anything from community work to fundraisers at the health unit. We're an active group and being a part of it has given me more confidence."
Troughear says the program promotes independence and they aim to experience different things each week. Activities range from learning life skills, ongoing education opportunities, participating in exercise programs, volunteering at local community events, and hosting fundraisers to help pay for the activities they partake in. One year, the group even raised enough funds to go white water rafting in Kicking Horse, in British Columbia.
"Many of the activities the group participates in are things that a lot of people may consider ordinary, however they are things that participants cannot often do because of restrictions placed on them by their mental illness, personal situations and other exterior factors," says Troughear.
Ken Caithness, 53, is also a member of the program. He's lived with schizophrenia for 27 years and has been in the program for the past five.
"The program helps me get out, meet people, and be involved in the community," says Caithness. "I enjoy the structure of the group and the communication therapy that we do. A lot of us don't interact with people very much and it's easy to become alienated, so being together is important and planning our activities gives us organization."
"I live on a farm in Perryvale and don't see many people, so I find the group very helpful," says Mitchell Semrock, a member of the program. "I like to spend time with friends I've made here."
The group is involved with many community and fundraising events.
Recently, David Chiasson, a member of the group, participated in the local "Walk a Mile in Her Shoes" event to help raise awareness about the seriousness of rape, sexual assault and gender violence. Chiasson and the other participants of the program collected pledges for his walk and raised over $800, the highest amount of money raised in Athabasca. All funds gathered at this event stay within the community and are used to help those who are or have experienced violence in their lives.
"By being together, getting out, and being involved in the community, members have reported many benefits which have enhanced their mental and physical wellness. These include: peer support, decreasing isolation, maintaining stability, fewer hospitalizations, more psychological support, being able to experience new things and overall a higher quality of life," says Troughear.
Participants of the program can range in age and diagnosis, but all are referred to the program by a mental health therapist. They aim to raise awareness about mental health and wellness, advocating for themselves and others on issues that impact them personally and that impact others within the community.
"Rachel is very passionate, skilled and knowledgeable," says Karen, a member of the program. "Rachel has always been here for me and helps us with all sorts of things, from helping us get employment, AISH (Assured Income for the Severely Handicapped), and any other supports we need. When we get together we all work together as a team. We talk about good days and bad days and share laughs together. We're treated like people, not people with a disability."
\For more information about the Athabasca Adult Day Program, volunteer opportunities, or to donate funds to help support their different recreational activities, call Rachel Troughear at 780-675-5404. For more information about mental health services call Health Link at 1-866-408-5465 or visit www.albertahealthservices.ca.