Resources available to help you stay on your feet and avoid injury
Story by Shelley Rattray
Irma Naf, an 87-year-old Calgarian who lives independently, knows the value of prevention when it comes to avoiding falls.
Naf has neuropathy, which causes weakness and numbness in her feet, and it impacts her balance. She had bars installed in her shower to provide support as she steps in and out. She also uses a cane and occasionally takes a walker to give her confidence when she walks, especially longer distances. Using this equipment reduces the possibility of falling and allows her to get out regularly, meeting friends and playing cards every week.
"You can stay at home and feel sorry for yourself, or you can take some preventative steps and get on with your life," says Naf, who learned about preventive steps by accessing services at the the Calgary Falls Prevention Clinic, operated by Alberta Health Services.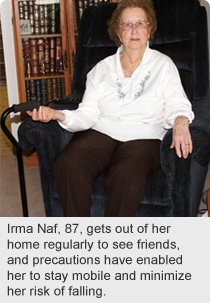 Geriatrician Dr. David Hogan, medical director at the Calgary Falls Prevention Clinic, says "regular physical activity can improve your balance, make you stronger and help prevent falls."
Anyone can fall, but as we grow older, the risk increases.
Falls are the leading cause of serious injuries in older adults.
Every year, one in three Alberta seniors will fall.
More disturbing, if a senior falls, there is a good chance he/she will fall again within six months.
While falling may not seem serious, falls can cause physical injury, and can make you afraid of getting up and around, making you even more susceptible to falling, thus diminish your quality of life.
The good news is you can take steps to prevent this from happening to you.
"Being careful is the thing," says Naf. "The most important thing is to realize that you might not have the same balance that you used to. And get some help to make sure you don't fall."
Keep Active, this year's theme for November's Seniors' Falls Prevention Month, is about finding what's right for you.
"Even something as simple as tapping your feet and lifting each leg in a stepping motion while sitting can maintain the joint function you need to keep moving," says Dr. Hogan.
He encourages seniors to talk to their doctor or health care provider about the best type of exercise program for them.
To learn more about how to prevent falls visit: www.findingbalancealberta.ca or contact Health Link Alberta 1-866-408-LINK (5465) to find about falls prevention program near you.