$1 million Gerald Averback Medical Research Award inspires transformational study
A team of Edmonton researchers aiming to improve the outcomes of heart transplant patients through gene therapy has won the University Hospital Foundation's $1 million Gerald Averback Medical Research Award in cardiovascular gene therapy, genomics and vascular biology.
Dr. Jason Dyck, Director of the Cardiovascular Research Centre at the University of Alberta, and the Principal Investigator of the winning research team are working on genetically modifying a transplantable heart to make it more resistant to rejection and less likely to fail. By delivering therapeutic genes to the heart, the project is looking to improve outcomes for transplant patients.
The winning research team was chosen after a rigorous international peer review process supervised by a collaborative panel of research leaders from Alberta Health Services' Mazankowski Alberta Heart Institute and the University of Alberta.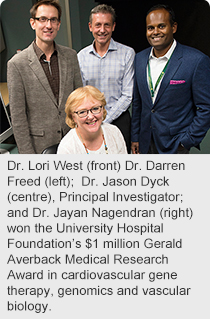 Dr. Paolo Raggi, Academic Director at Alberta Health Services' Mazankowski Alberta Heart Institute; Professor of Medicine, University of Alberta Faculty of Medicine & Dentistry; and chair of the committee that organized the international peer reviewed competition for the Averback Award, hailed Dr. Dyck's project as a potential game-changer in the field of heart transplantation.
"The Mazankowski is a prominent heart transplant center in the North America, so for us to be working in the field of improving the outcome of heart transplants is very important," Dr. Raggi explains. "It's something that could impact cardiac health around the world."
Between 70 and 85 per cent of hearts that are donated for transplants are not used, Dyck said, because of logistical issues, donor characteristics or organ function.
Damage to the heart during transplantation is also an issue, as well as the rejection of the transplanted heart. A donor heart not functioning well enough to be transplanted is the primary reason donated hearts are not used.
"This is an area where we thought we could make an impact," Dyck said. "Can we use gene therapy to improve the function of these hearts?"
The team is studying adiponectin, a protective hormone that has been shown to improve heart function and reduce rejection following a heart transplant. The project aims to develop a way of effectively delivering adiponectin by administering a virus to the heart without affecting other organs or cells in the body.
If researchers can genetically modify a transplantable heart, it could significantly increase the number of hearts that could be transplanted. "The genetically enhanced heart will function better in the donor, as well as hopefully reduce rejection," Dyck said.
The Gerald Averback Medical Research Award was made possible by a generous donation from Saskatoon-based Developments West Corporation to the University Hospital Foundation. This is the largest single research award in the history of the University Hospital Foundation.