Didsbury District Health Services Auxiliary celebrates milestone
Story by Paul Frey, Didsbury Review; photo courtesy Didsbury Review
The Didsbury and District Health Services Auxiliary celebrated 50 years of service to the community on Oct. 23 at the 5-0 Club.
The organization has raised $70,000 in that half century for various health-related equipment and initiatives, including handing over a $10,000 cheque last week to the Rosebud Health Foundation for the new helipad.
"We've bought equipment for physiotherapy, we've bought a crash cart for the lab, we've bought wall-mounted toys for public health (services). The items are not covered by Alberta Health," said Sharon Barefoot, past-president of the auxiliary. "I think we're valuable because first of all, we're volunteering our time and secondly, we are providing equipment for our community that's not covered through Alberta health care, so we're able to provide items that help make life a little easier for residents in our communities."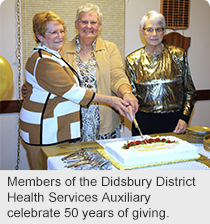 Beckie Nickerson, a representative from Alberta Health Services, said she was happy to pass along congratulations from AHS for the group's tireless efforts toward assisting with health care in the community over the years.
"What a feat for this group to have made it through 50 years," she said, adding that auxiliary members have always been willing to lend a hand when needed.
"They always come through. Certainly the contributions the auxiliary makes, helps us all out," Nickerson said.
It's estimated that group members have donated over 20,000 hours to helping the community over the 50 years.
Jean Waite has been one of those volunteers who joined the organization in 1991.
While she didn't initially attend group meetings, Waite took the tuck cart around to patients at the hospital, offering them chocolate bars and other items and someone to visit with. Waite, who retired from nursing prior to joining the auxiliary, said one of the main benefits of the auxiliary is providing social interaction to patients.
"When we took the tuck cart around, we'd stop and talk to them. Some of them didn't have family here and so it was kind of lonely for a lot of them. I was always interested in the hospital because I was a nurse," she said, adding she's made great friends with other volunteers.
"I think all hospitals benefit from the volunteers. The staff can't do everything that has to be done, so we kind of fill in," Waite said.
Eunice Gole, who has volunteered with the organization for 35 years, said she enjoys volunteering and meeting people.
Before joining the auxiliary, Gole was a nurse for 25 years. Gole said after she quit nursing she still wanted to help care for patients in some capacity.
"I did a lot of volunteer work. I helped patients in their homes," she said. "(The auxiliary) brings the families closer together and it's a lot of satisfaction."