Business and Industry Clinic celebrates 20 years
Story and photo by Sara Warr
His name is Ian and he is an addict. But, Ian McGregor has been clean and sober for nearly two decades after taking part in the Business and Industry Clinic at the Northern Addictions Centre (NAC).
"I tried to quit using before but was unsuccessful," recalls McGregor, now a 52-year-old father of two teenage boys. "I didn't really take it seriously until after my first son was born."
For him, the final straw involved his infant son and a trip to the grocery store.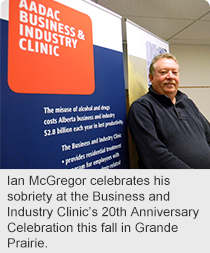 "My wife had asked me to get diapers and gripe water for our son who had colic," says McGregor. "As usual, I got high on the way. I grabbed a bunch of stuff that I thought we needed, but forgot the diapers and gripe water. My wife looked at me in disgust and said, 'What kind of father are you going to be to your son when you can't even get him what he needs?' And that's when I realized, she was right."
McGregor was one of the first clients to take part in the unique program that gives employers a chance to help employees struggling with addictions issues, empowering them to get and stay sober.
The Business and Industry Clinic marked its 20th anniversary this year with a gathering that included McGregor, among other clients and staff, both past and present, who shared some of their experiences. Manager of the program for its first 11 years, David Nesbitt had been at the NAC for just over a year when the management team there began working on something unique and new. Prompted by requests from the business community, the task at hand was to develop an addictions treatment program addressing substance abuse in the workplace and its effects on a booming province.
"It wasn't about just the treatment of the individual, it was also about providing for a safe workplace," says Nesbitt, now retired. "We wanted to create a win-win situation for the employee that was in trouble, but also for the organization that had a mandate to create a safe workplace for its employees - a safe workplace that would ultimately impact the public as well."
"Individuals can refer themselves to the program, although most referrals come from referral agents." explains Maureen Leslie, Business and Industry Clinic Supervisor, about the relationship between the employer and the Business and Industry Clinic. "A referral agent can be an occupational health nurse, counseling service contracted by the employer, someone in the company's human resources department, a doctor, an employee assistance program professional, or someone else in that type of a helping role."
Designed with input from industry representatives and the business community, there are two programs offered through the Business and Industry Clinic, each embracing a 12 step philosophy: the 30 day alcohol and drug program and the 50 day cocaine program. Both incorporate group therapy, psycho-educational workshops, a family participation component, one-on-one case management and extensive follow-up after clients leave.
"The client is accountable and so is the employer, so the follow-up portion is really an integral part," says Leslie. "Many companies will cover the cost of the program for their employees as well. Affordability for clients is huge, because that's one less barrier standing in the way of their sobriety."
Supporting an employee who seeks treatment can help a company's bottom line as well. But as Nesbitt explains, a hot economy can also prove challenging for businesses trying to convince staff to get help.
"Sometimes an employee is faced with the decision," he says. "Are you going to go to treatment or not? And if you're not, we're not going to keep you. But often, employees would walk away because they knew they could easily find another job elsewhere. The companies that we worked with genuinely cared about their employees, saw them as their biggest asset and wanted to see them doing well."
The Business and Industry Clinic has changed a bit over the years. Client admissions have moved to every two weeks rather than weekly. A reduced-cost program is now available to clients who have relapsed. The merging of the Alberta Alcohol and Drug Abuse Commission (AADAC) with AHS included further collaboration with mental health services and other health disciplines.
"This has proven helpful because as time progresses, we're seeing more clients with complex needs," Leslie explains. "We're seeing clients who have gone through some sort of trauma and need that type of help, in addition to getting help for their addiction."
"It was a horrible feeling," McGregor recalls, about the timing of his decision to finally pursue treatment. "I was a financial advisor, I had a wife and new baby at home and I was abandoning all of it right at tax time. In the end, my wife managed just fine. She explained to my clients that I was sick and they all understood. It all came together just the way it was supposed to. It's amazing how things work when you just get your own mind and your own will out of the way."
The Business and Industry Clinic has accepted clients from 18 to over 70 years old, but McGregor says sooner is better. He urges anyone struggling with addiction to take the steps needed to get clean now, regardless of cost or convenience.
"You've wasted enough of your life," he adds. "It's simple - if you know you have a problem, it's time to do something about it."