AHS Official Administrator gets buzzcut to raise funds for cancer
For Carl Amrhein, the official administrator of Alberta Health Services, baring the chrome on his dome brought gold for the Alberta Cancer Foundation on Thursday.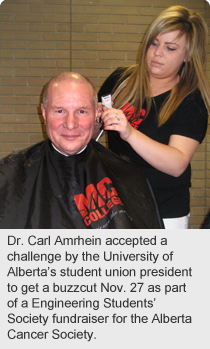 The fun came at a fast clip as Dr. Amrhein had his head sheared at the University of Alberta as part of an Engineering Students' Society fundraiser for the Foundation.
"It feels quite a bit cooler up there now," he remarked as his curly locks started to fall away, as his wife, son and granddaughter cheered him on.
After the certifiably closest of shaves, Dr. Amrhein reached the rank of top individual fundraiser for the event with $3,675 in donations.
When asked why he bid his mane adieu, Dr. Amrhein said: "It's an important cause and I was challenged by the University's Student Union President, William Lau — and I never back down on a challenge."
"It's important for the University to give back, and cancer has touched so many lives," he added.
People can still donate to Amrhein or any of the other participants in the Engineering Students' Society head-shave fundraiser through the following link: