Mazankowski cardiologists share absorbable stent know-how
Story by Korey Cherneski
At first, David Ellis didn't feel like his life returned to normal following treatment for a heart attack.
Remaining blockages to his heart limited his ability to train and compete in sports at his previous high level. Ellis's cardiologists decided the Absorb bioresorbable vascular scaffold (BVS) could restore his previous quality of life.
"When my face is in the water during the breaststroke or the fly, my shortness of breath has disappeared," says the 68-year-old Edmonton man.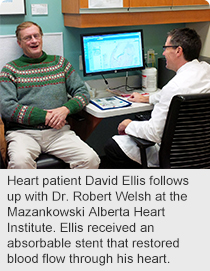 "The stent isn't going to make me fitter, of course, but it has let me work and exercise as hard as I want, which is the most I could ever ask for."
In February 2013, the Mazankowski Alberta Heart Institute in Edmonton became the first and only medical centre in Western Canada to use the BVS.
Like a typical stent, it treats narrow or weak arteries, restores blood flow and prevents further complications. But, unlike a metal stent that stays in the body forever, the BVS dissolves into the body over time, allowing the patient to return to normal vascular function.
Recently, four leading clinical interventional cardiologists from Brazil visited the Mazankowski to help them launch this stent technology in their own country. They were here to learn how to implant a BVS and how to identify patients who would most benefit from this technology.
"As part of the Mazankowski Alberta Heart Institute, we welcome opportunities like this where we can share our knowledge, experience and expertise on such important technologies and also showcase the great work of our physicians and staff," says Dr. Kevin Bainey, Director, Interventional Cardiology Fellowship Program at the Mazankowski.
Dr. Bainey and Dr. Robert Welsh, Director of the Cardiac Catheterization Lab at the Mazankowski Alberta Heart Institute, are Western Canada leaders in this technology.
The four Brazilian cardiologists say their journey north was enlightening and productive, and are eager to launch a BVS program next month.
"We were excited to come to Edmonton to share experiences with the local heart team and learn about the new stent technology with plans to implement our own BVS program," says Dr. Romualdo Dolzami. "This is a new field in interventional cardiology that we are looking forward to implement this and see the long-term results for our patients."
The ideal patient candidate for the BVS is under 50 years old and maintains a high amount of physical activity, as dilation of the blood vessel, which increases during exercise, is important to return the artery to fully functional capacity.
Additionally, if cardiologists determine that patients may require bypass surgery five or 10 years later, then they would also be candidates for the BVS. This would allow a surgeon to perform the bypass without having to cut into a metal stent first.
While Ellis does not fall within the model age for this new technology, he maintains an active lifestyle which made him eligible for the procedure.
"Quality of life means something different for everyone but, for me, having been involved in competitive sports for 53 years, this is what it means to me," says Ellis.